Gustaf here. Still covering for Ben, who's not back until next week. I know… but we can get through this together, I promise!
One big thing
It's Valentine's Day. When we peek under the hood at Nudge data, we notice that consumers are spending 69% longer on quizzes during Valentine's. Curious.
For more insights, such as the best time of day to advertise during the Feast day of Saint Valentine, give our Valentine's Insights post a read.
Quick tip: split out your distribution by device types (independent of it being Valentine's Day or just another day of the week) – it does make a difference.
Notable stories this week
Deals/M&A
Verizon Media to sell JCDecaux inventory as outdoor interest increases.
Spotify said to pay $250 Million for their acquisition of The Ringer.
Campaign of the week
Filson on Atlas Obscura: '7 Spots to Strike Explorer's Gold'. In this piece, you follow the footsteps of 100,000 prospectors to Klondike Gold Rush spots in the Yukon. Who hasn't dreamed of stumbling across a big pot of gold!
Pandora on Bustle: 'We set this couple a Valentine's Day challenge to find out how well they *really* know each other'. A fun and interactive piece, which finishes with some gift ideas from Pandora – a nice tie in.
Submit your own and view the best campaigns of 2020.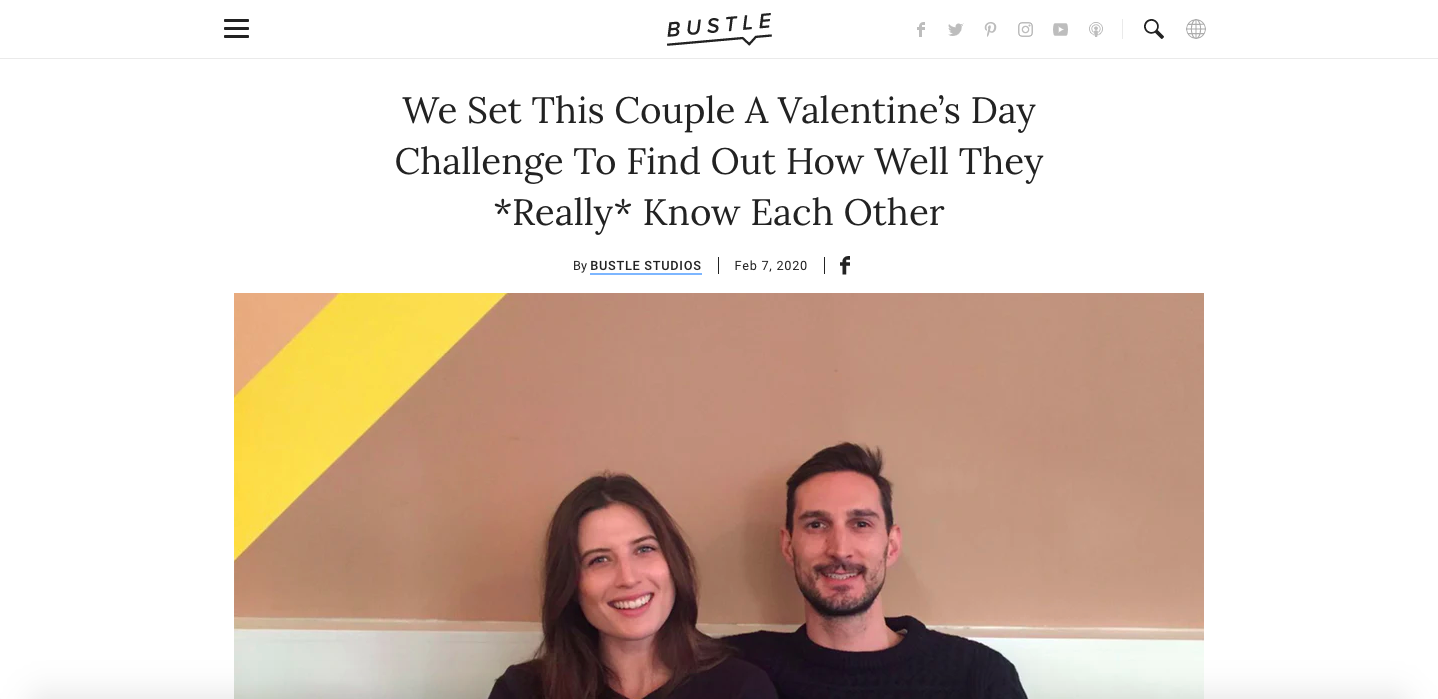 Smartest commentary
"BuzzFeed's strength is building brands that drive action IRL. Tasty empowers millions of people to cook and try new recipes every day and now BringMe is inspiring young people to visit new places and explore new things," […] "Partnering with Hilton brings us even closer to our audience, and also makes it easier for them to make travel plans by booking directly. Through our shared consumer-first approach, we're able to provide utility for our audience in a new way." – Jonah Peretti, CEO at BuzzFeed.
Datapoints of note
Influencer spend is on the up, but the industry has a trust problem with 96% of people in the UK saying they do not trust influencers.
Instagram has reportedly smashed the prediction having generated a whopping $20 billion in advertising revenue last year – more than a quarter of Facebook's overall revenue.
Survey reveals 36% of Disney+ subscribers have left other streaming platforms.
Thanks,
Gustaf
Nudge is a dashboard for your content.
Nudge is built by marketers and aims to serve brands investing in content-based media, across any category, looking to illustrate ROI, generate deep performance insights, and save time.
---