A brief thanks to Gustaf, who I collaborate with on the newsletter, this is his last for a while. ?

One big thing

A story this week was on how advertising was down YOY, notably February (should be) the last 'normal' month before the covid declines. My underlying feeling though is, is that the right thing to be watching right now? Well yes, it is factually correct. But is watching advertising spend the best way to understand what is happening with advertising spend? I'm not so sure.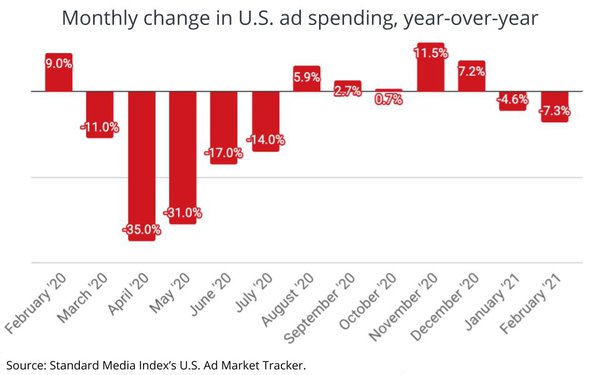 Many companies have kept their budgets in flux, and often reallocated elsewhere. For example, Budweiser funded their tv show from across the board. This isn't reflected in the advertising spend count but undoubtedly has an advertising contribution.

"It's unclear how much Anheuser-Busch spent on the production, as Gordon declined to specify, though he did say the budget came from the portfolio of brands' marketing budget rather than that of a specific brand. In 2020, Anheuser-Busch spent $359 million on media, down from $443 million in 2019, per research firm Kantar. However, those figures exclude social media spending as Kantar doesn't track that spending."

If we want to understand advertising and its return, we have to understand broader marketing investments. Marketing is building the assets we want to advertise. And they are likely to be the leading indicator.
Notable stories this week
Deals/M&A
Smartest commentary
"If you tell a great story with the right branded integration, you never question whether the brand is involved because the brand is essential to getting the story done. Viewers don't think a brand was just stuck in there. They realize that without that brand, this story wouldn't be possible." –Rob Dyrdek
"The top influencers we work with are multimillionaires,"…"You can't simply reach out to them and expect that they'll be happy to plug your product. We look for a good fit between the client and the brand. We also tend to start brands off quite small: perhaps come up with a few ideas, test them, see how they work; see if the brand and the influencer are comfortable with each other. And then move on to a broader engagement." –Mark Bassett, Head of Partnerships at Branded Entertainment Network
Data points of note
[On Amazon's Sponsored Brands Video ads] In December 2020, 18 times as many advertisers deployed Sponsored Brands Video ads in April. The videos produced a click-through rate of more than 440% higher than olden-timey static ads in Q4 while driving a conversion rate that was nearly 30% higher than static images.
2/3 of Google Searches ended without a click.
U.S. Ad Economy contracts 7.3% in February.
That's it for this week.

Thanks,

Ben
---