A short handbook for content studios at publishers working with brands & agencies.

We thought we would distill some of the things publishers should be attentive to in delivering these campaigns. To drive enduring results and keep ahead of the market.

Through the lens of analytics & insights, it provides practical tips on how to improve performance.
What's included:
– Intro
– Strategic narrative
– Articulating value
– Using data as a weapon
– Common mistakes
– Quality metrics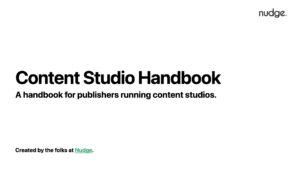 Enter email to receive the download download link and receive any updates to the playbook.