We kept getting asked how to handle the recent ATT changes. Marketers have found their growth handbooks are no longer working. And are looking for a new way.

After sharing how we tackled it ourselves. We decided to put it together into a simple playbook for everyone. A simple process that is durable and enduring.

We share how we did it, step by step. Download and see for yourself.
What's included:
– Intro
– What's Changed
– A new process
– How we did it ourselves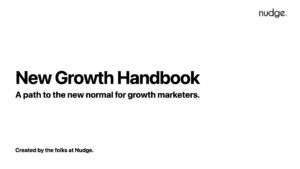 Enter email to receive the download download link and receive any updates to the playbook.