Valentine's Day is nearly upon us!

Some people will look to spoil, others will want to be spoiled. Some will spend the day curled up on the couch eating crisps, wishing for the the day to be over…

I'm no dating expert, but I do know a thing or two about advertising; more specifically branded content campaigns [feel free to take a moment to appreciate my seamless transition]. So, in this post we're going to be focusing on branded content trends during Cupid's most labor intensive day.

In this post I cover:

I also share a few of my favorite content examples, including a very special campaign by Variety (who were kind enough to tell us about their Valentine's campaign from last year), to get you pumped up to go out and deliver some awesome campaigns.

Interested to learn how Nudge can help you run better campaigns? Get in touch.

The Top Content Formats during Valentine's Day, by Attention Minutes:
Quiz: 1.57
Video: 0.77
Article: 0.77
Image Gallery: 0.72
List: 0.50
Interestingly, only quizzes perform better than the Nudge benchmark which comes in at 0.8 attention minutes; people are less interested in engaging with sponsored content during Valentine's Day, than the yearly average.

There's a lot of lighter, more interactive content types such as quizzes, lists, image galleries and videos. High involvement content such as video + article doesn't work as well on the day.


By comparing Valentine's best performing content types against the Nudge Benchmark (benchmarks are based on data from the whole of 2017), we found that consumers spend 69% longer on quizzes during Valentine's than the norm, not something to be taken lightly by marketers.


Split Out Distribution by Device & Time of Day

Different devices are more/less effective during certain hours of the day.

Based on Nudge data, I found some distribution times to keep in mind, split out by device:

The time of day to distribute your content, by device:






Talk to a Nudge Account Manager about how you can optimize your upcoming content campaigns.


Top 5 Branded Campaigns in 2017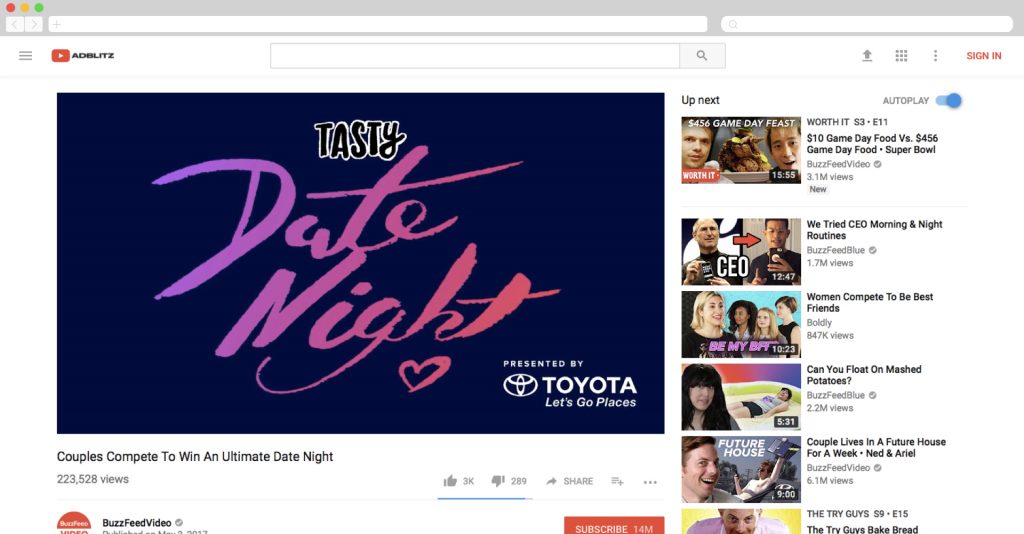 Toyota + Buzzfeed: Two couples go head to head as they have 30 minutes to plate a dish that they've never cooked before. Having a top chef judge the competitions and with the couple's being very short on time, it makes this a fun, yet thrilling event that goes down to the wire. When watching you can't help but get emotionally involved and very, VERY hungry.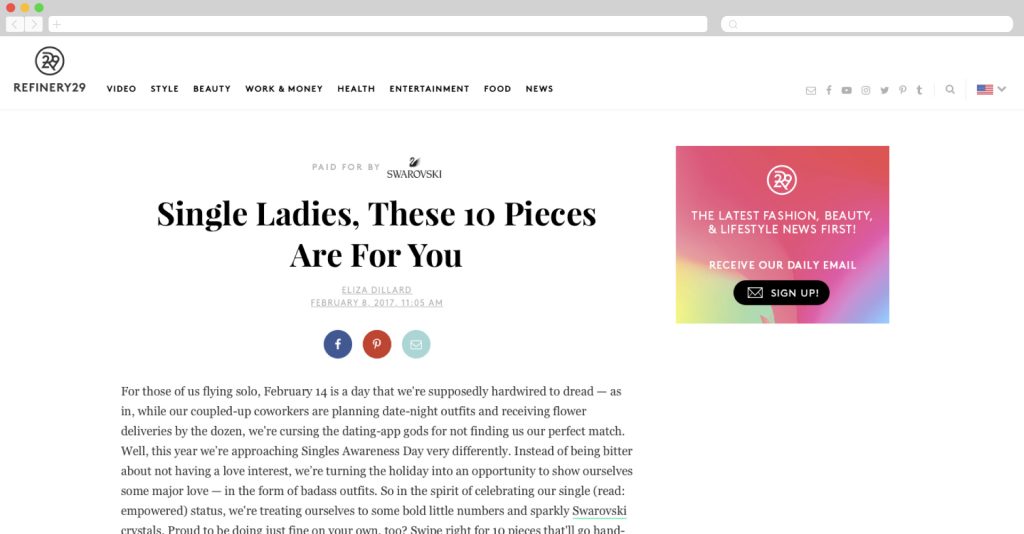 Swarovski + Refinery29: produced a nice twist on Valentine's Day. "Instead of being bitter about not having a love interest, we're turning the holiday into an opportunity to show ourselves some major love — in the form of badass outfits". The reader is presented with several clothing items that they're told to either swipe left to say 'bye' to, or right to say yes. When the last item has been swiped, the reader is shown a list of all the items they've ❤️. The article's well-placed call to actions makes it shareable, easy to email to yourself or loved one, or to simply buy the clothes in your basket. Simple and effective execution.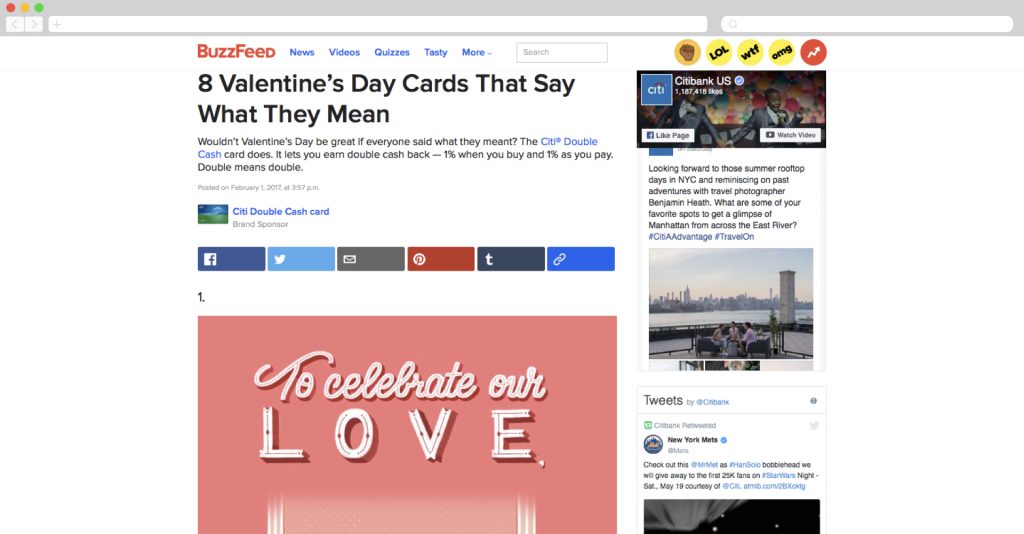 Citibank + Buzzfeed: worked together to produce a fun and lighthearted piece, full of amusing Valentine cards available for download right there and then. With this piece, Citibank are able to effectively get their message across with clear CTA's at the top and bottom of this piece. A *hattip* to everyone involved.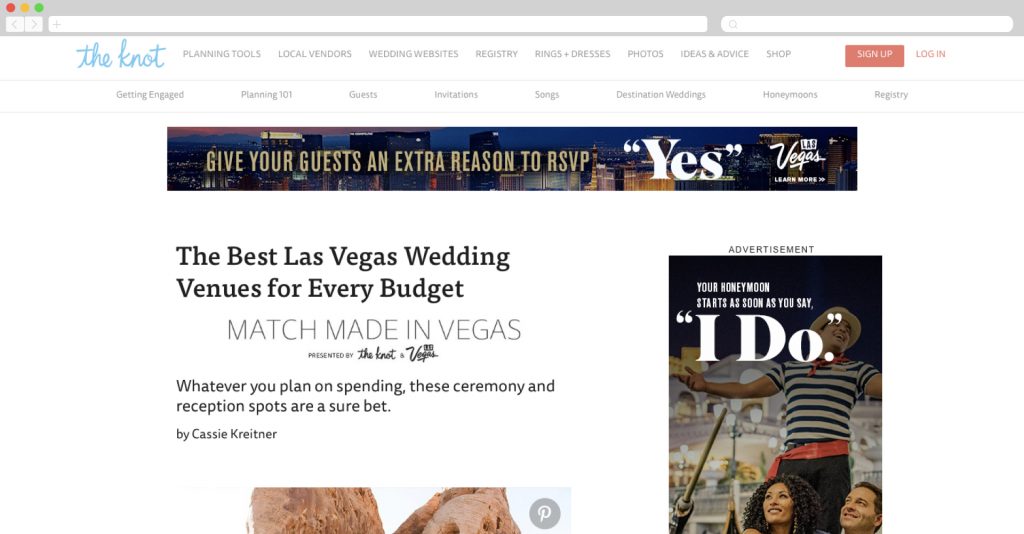 Las Vegas Convention + The Knot: When you think about Vegas, you think about massive casinos, crazy nights out and weddings [probably with the person you met during that crazy night out?]. They share some stunning wedding locations for every budget, from glamorous classic venues to the more tropical. They do a fantastic job of positioning Las Vegas as the place to go, if you want to get married in style.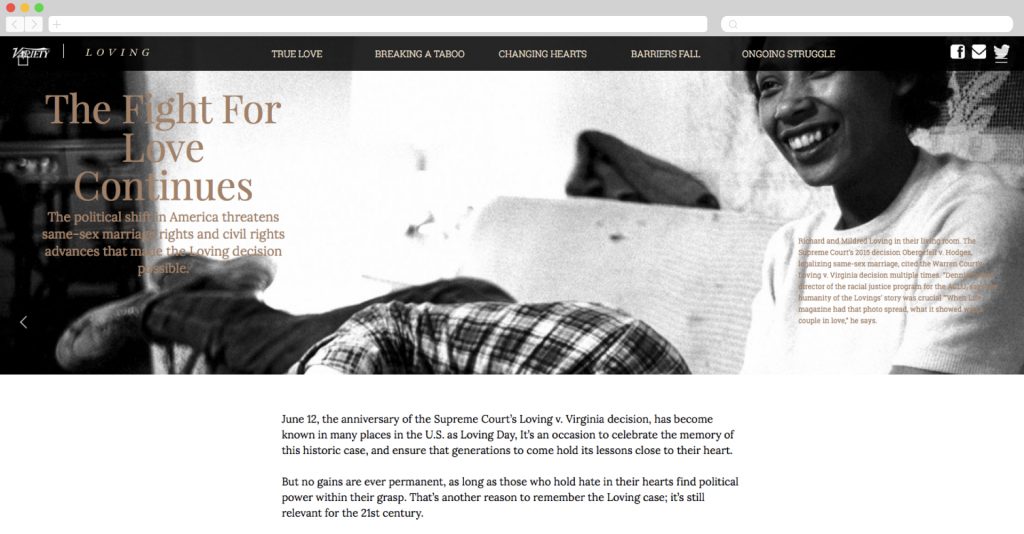 Focus Features + Variety: We like this piece as it's highly creative, and has a different take on Valentine's than most other content we've seen.

In fact, we liked it so much that we asked Variety's Content Studio team to share the wider context of the piece.

What was the campaign objective?

"to raise awareness, engage the film voting audience and collect as many awards nominations & wins for Focus Features' film, "Loving."

We knew that Focus Features wanted to promote "Loving," about the period leading up to the Loving decision that made interracial marriage legal across the United States. We also knew that Variety had covered the issue of interracial sex and romance through the decades as pop culture and entertainment took it on We'd been through our archives and knew that we were sitting on a rich vein of material for a historical survey of changing attitudes. We saw that as performers and artists challenged old "miscegenation" taboos, Variety's coverage had evolved.

Finally, not long after the Loving decision, "Guess Who's Coming to Dinner" seemed to put Old Hollywood's official seal of approval on the idea of interracial love. So we presented Focus Features an archive-driven series of articles covering the period covered in the film, showing how the entertainment industry struggled with the same racist attitudes the Lovings were confronting.

Focus Features came on board in early December 2016, and asked for one significant addition to the concept: They wanted the final article in our series to survey anxieties about Federal policy on civil rights (including policy racial discrimination, gay marriage, transphobia and more). We settled on a package of 12 pages comprising five articles.

Most of the sourcing would be from the Variety archives, but the final article would include original interviews with several pundits and newsmakers, and allude to other entertainment properties that had broken ground, including "Star Trek" (first interracial kiss on network TV) and "Will & Grace" (which helped normalize gays on TV). Focus would provide stills from the film and access to the famous Life Magazine photos of the Lovings at home. Variety would supplement those images with images and clips from its own archives.

The package, titled "The Marriage That Changed the World," was scheduled run in-book and go live online in the first week of January 2017, just as Oscar voters were returning to work after the holidays. Not coincidentally, that was also when Oscar nominations voting opened."

What do you think you got right?

We framed the role of pop culture and entertainment not only in reflecting social change, but advancing it. There were always brave people pushing the cause of equal rights throughout the decades, and while that record has plenty of blemishes, and Hollywood could be cautious to a fault, in the end there's much for the industry we cover to be proud of.

On a more granular level, we struck a great balance between promotion and reportage. Readers enjoyed the articles, which proved timely and relevant, aside from their promotional value for Focus. In that respect, it was the best kind of branded content: It was material that served our readers and the promotion for "Loving" was organic and unobtrusive."


Schedule a call with a Nudge Account Manager to understand how we can help you, as we've helped other leading brand advertisers and premium publishers drive better content performance.
---