Nudge at its core is a marketing analytics platform to give you more visibility into what is performing. Because content has become the cornerstones or backbone of marketing today, that is where we have focused. And each year it continues to change. As we do too.
As company or culture, we are very pragmatic, work within the constraints we as marketers have, to help deliver the best clarity. Then leverage technology to generate smarter insights.
An example is our Insights feature, which saves you time in going from insight to action, by analyzing all the millions of data points and turning them into human-readable sentences.
All of this stacks in to, how can we get to deliver more business outcomes from your content.
This leads nicely into attribution, which you can read more on here. Attribution for content is just understanding how content, once consumed, drove one of those business goals.
Digital marketing has been perceived to be all science but with content, it's made it obvious that it is art and science.
Here is why it is different
When marketers think about dashboards, they think about Tableau or Domo. With Nudge, it is a dashboard for your content first, then distribution. So it is a specialized platform, you pair with the likes of them.
But it's not just showing data, it's about measuring, cleaning up and deriving insight from your data. Turning it into intelligence.
More on our approach to insights here.
So when you think about marketing analytics, again it is about pairing, if content is key, we can act as your core platform. If content is a part of the mix, you want to pair Nudge with your others. And that is where we are friendly as a dashboard you can use our API to pull data out, or get it into Google Sheets and port from there, or schedule regular exports.
One of the ways we test ourselves, if seeing how much our tool is used, we see the average user spends up to 6 hours/week on the platform. Logging in, adding content, getting insight, making changes, seeing how those changes differ.
The solution set does vary, there are two buckets. The first, go sign up, use Nudge on your domain. The second is a more enterprise-focused offering for owned and paid content, as well as more options for data portability.
Even so, it's about finding the right tool for the right job. You can get started here.
The evolution of Nudge
Nudge started inside a digital agency in NZ, it was one of those organic projects which just started basic then kept growing.
What we found was, we were doing similar projects over and over again. And in turn, were duplicating code over and over again. I thought this was a bit crazy, so we built it into a lightweight platform, which we could deploy for a client. Then customize.
Initially, this was called 'Promo Engine' – not the best name. But I spent a few months going back and forth with Joe on the team, to come up with some names. We landed on Nudge because we went, that is what you'd do to someone, to pay attention to what we were telling you.
The others on the list were Avalanche (use this data to snowball your results) or Lighthouse (help guide where I need to go).
This scar tissue is what has become the thread of Nudge; help me get consistent data, across my creative & content executions, so I can make better decisions ALL the time. The end work might differ, but my ability to pair the knowledge of the work with consistent data assisted me in creating better work.
It's a symbiosis.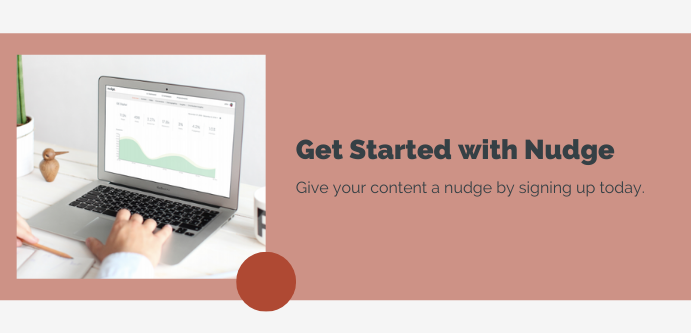 ---