We've compiled a comprehensive list of all the native advertising tools out there. This list is useful for agencies, brands and publishers. We've broken them down in to four categories.
Content
– Content Creation
– Content Recommendation
– Content Marketing & Amplification
Platforms
– Native Ad Platforms
– Mobile Native Advertising
– Native Ops
– Native Video
– Native Advertising DSPS
– Native Content
Publishers
– Early Adopters
– Mobile First Publishers
– Video Publishers
– Commerce Publishers
– Social Network Publishers
– Bloggers Networks
Measurement & Optimization
– Content Analytics
Content
Content creation
Content Creation includes information, maintenance, and updating of any media, and most especially digital media.
Contently
Contently is a technology company that helps brands create content at scale. They provide smart technology, content marketing expertise, and vetted creative talent.
NewsCred
NewsCred's is a content marketing platform. They help brands managing the content marketing process on one platform. By managing content creation, distribution and measurement, the brands will be able to scale and streamline the customer experience.

Content recommendation
Platforms that recommend traffic from one piece of content to others.
Gravity
Gravity aims to understand their users, which is why it is a personalization platform. They want to create interests so the users can create more relevant web content experiences. They also analyze each web page to identify trending topics. For publishers, Gravity provides personalized content recommendations and sponsored content.
Outbrain
Outbrain features brand access to top publications through recommendation widgets. They allow users to promote earned media that provides entertainment or informational value. They offer real-time recommendations at different websites. Outbrain uses a cost-per-click pricing model which means you only pay when someone clicks on your promoted story.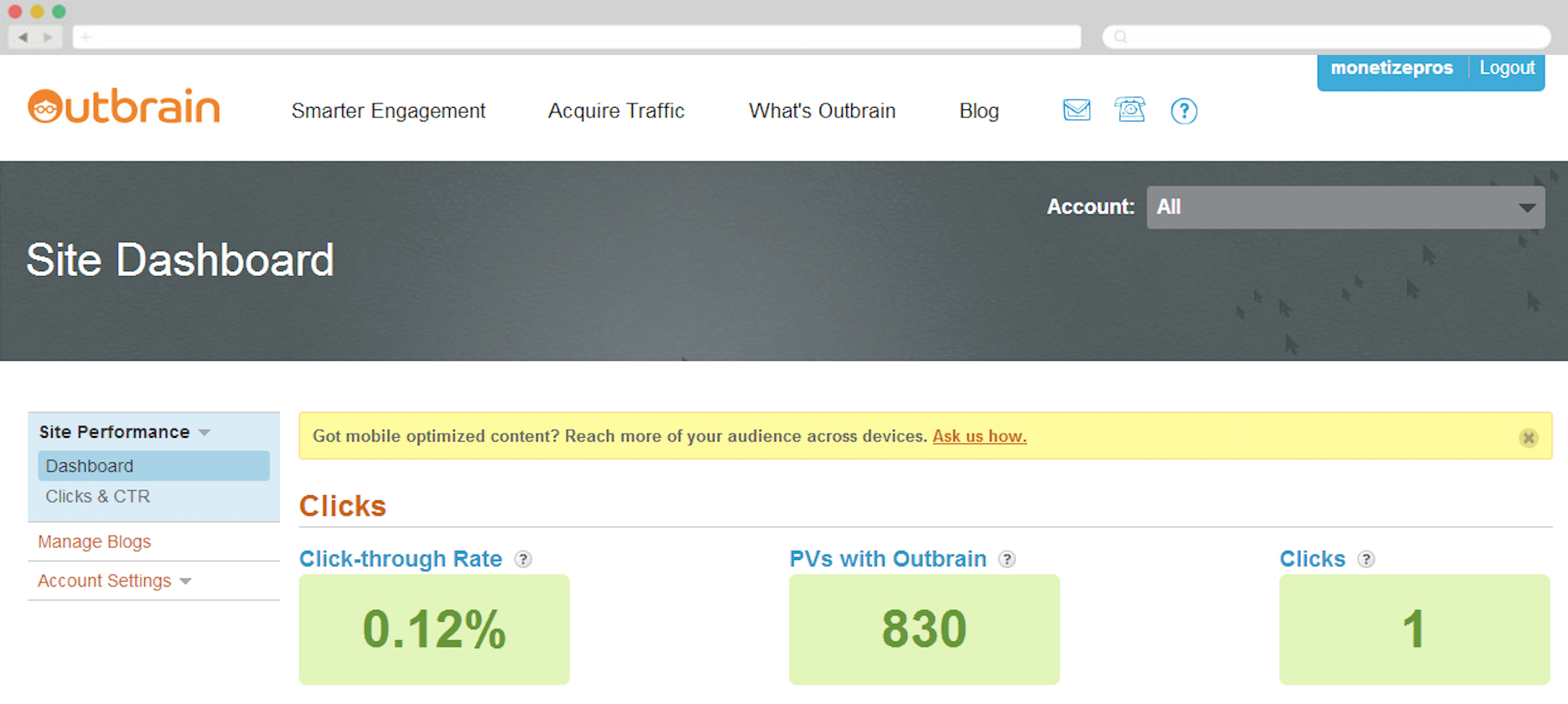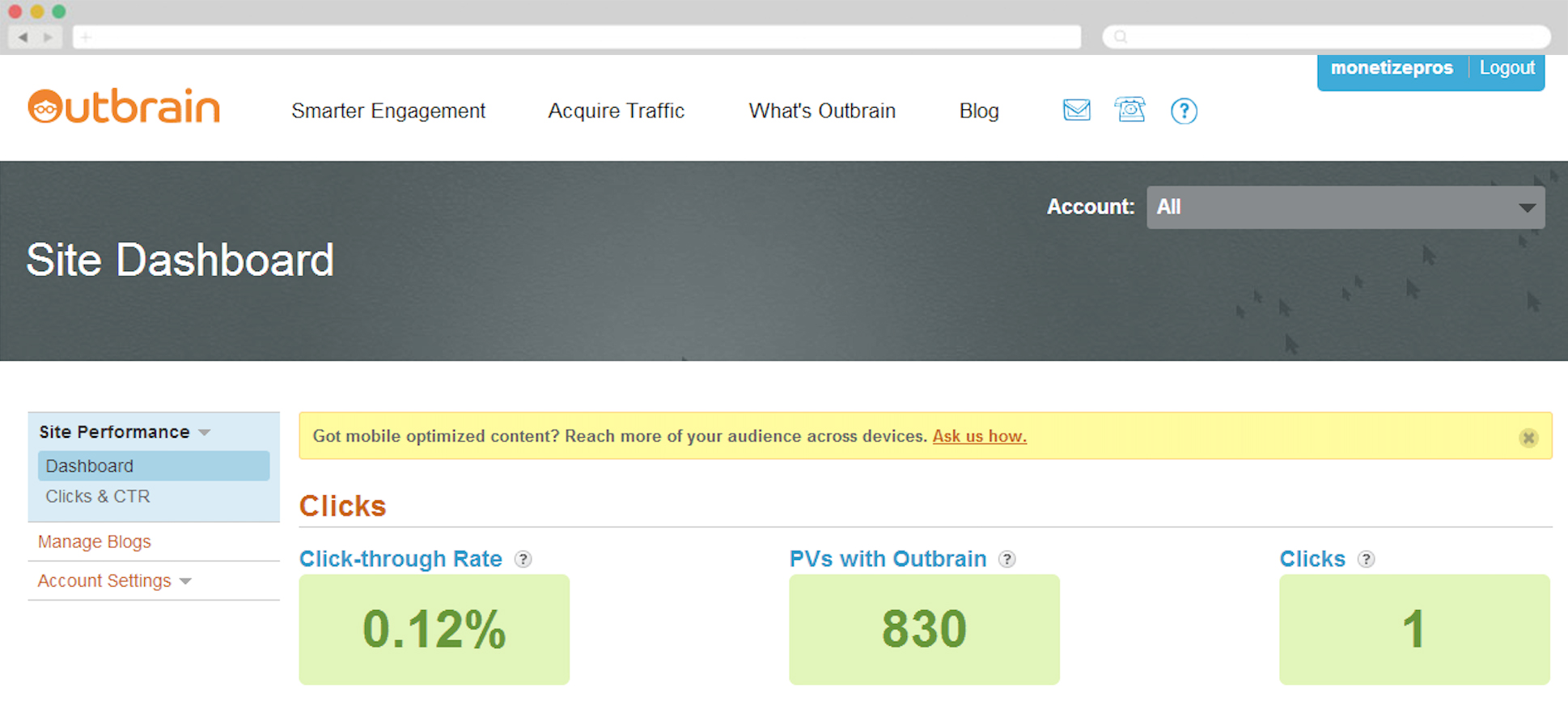 Revcontent
Revcontent is useful for both advertisers and publishers. Revcontent powers more content recommendations than most of their competitors. They have built lean, differentiated, and innovative technology.
StumbleUpon
StumbleUpon is a discovery engine. They allow their users to discover content related to their personal interests. While enjoying videos, photos, and web pages, users are able to give ratings on the media.
Taboola
Taboola is a content discovery platform which operates on major publishing sites like Yahoo!, NBC, and USA Today. They use a similar pricing model as Outbrain, but with an additional option to pay more per click to access the platform's top publishers.

Content Marketing and Amplification
Cloud-based platforms that allow advertisers to extend the reach of their marketing content.
HubSpot
HubSpot is an online platform that provides problem solving programs. The platform makes it easier for partner agencies to serve their clients with sponsored content.
Instinctive
Instinctive offers a single platform in which they manage the creation, syndication, and measurement of a brand's content. Instinctive also elevates and streamlines the content strategy, so brands can achieve scalable ROI.
Magnetic
Magnetic specializes in retargeting solutions. Their solutions combine intent data with display advertising related to users previous search history. This is to power brand awareness and direct response campaigns.
Marketo
Marketo develops marketing automation software. The solution delivers more sales leads with less effort. The software includes inbound marketing, lead management, social marketing, event management, instant CRM integration, sales dashboards, marketing ROI reporting, and analytics.
Onespot
A content marketing platform that serially publishes multiple pieces of content to the same person, wherever they are online. They use a technology which takes a data-driven approach, optimizing the connections between content, audience, and results.

Platforms
Native Ad Platforms
A type of platform where advertisers and publishers buy and sell advertising space.
AdsNative
AdsNative is a platform that uses both in-feed and in-ad placement strategy. They also give access to the system's technology and infrastructure within their own network and apps.
Adtile
Adtile focuses on native advertising solutions for the mobile industry. They provide a multi-sensor advertising technology together with services for smartphones and tablets. The technology is based on flight dynamics, hardware sensors, collection of APIs, human interface, and forms of nature.
AdYouLike
AdYouLike aims to enable advertisers to spread their brand content natively in the heart of any type of editorial content. They use a technology which ensures that any kind of ad fits every publisher's website.
BidTellect
BidTellect provides native advertising technologies and solutions which can facilitate the efficiency for advertisers. The platform is associated with the delivery of targeted native ads across all devices and in all formats.
Connatix
Connatix offers solutions for advertisers and publishers, allowing them to spread their content across web and mobile media properties.
Disqus
Disqus is a blog comment hosting service offering a platform for social integration. The company's platform includes social networking, user profiles, spam and moderation tools, analytics and mobile commenting. Disqus makes it easier to discover and discuss new topics worth talking about.
DistroScale
DistroScale is a platform and marketplace for buying, delivering and measuring native content. The platform is designed to work across websites, mobile webs, and apps.
Kargo
Kargo is a mobile marketplace that provides publishers and brands with solutions for mobile experiences. Those solutions can include selling, buying, designing, delivering and scaling quality.
MoPub
MoPub provides mobile publishers with a full featured ad serving platform which is optimized for the publishers. MoPub offers a platform that combines ad serving and ad network mediation with real, time bidding exchange on one platform.
Namo Media
Namo Media's technology allows any mobile app to do mobile advertising. They help to create custom ad formats that fit seamlessly into the surrounding content.
Native Ads
Native Ads is a content discovery and in-stream advertising platform. Native Ads eases the buying and selling process of native ads for publishers and advertisers on websites, mobile web and apps.
Nativo
Nativo offers a platform to improve native ad performance. The platform combines automation and insights with quality reach to scale. They also optimize engagement with the content on the platform. Nativo offers an easy way to sell, distribute and optimize native ads.
Plista
Plista is a content and advertising platform for advertisers and publishers, made available online and in mobile formats. They give the user an opportunity to determine what advertisements and recommendations to receive.


PowerLinks
PowerLinks' technology enables buyers and sellers of native advertising to virtually meet at one global online-marketplace. They also enable businesses to adopt and scale native advertising.
PubNative
PubNative is a technology platform focuses on native advertising. They enable mobile publishers to earn revenue by implementing native advertising. PubNative provides specific needs for the publisher by creating non-intrusive and highly performing innovative ad integrations.
ShareThrough
ShareThrough provides content such as quality tracking tools, content cards and a system for creative optimization. All the features interact together to provide an improved experience of the native ads.


TripleLift
TripleLift differentiates themselves by using technology tools that can read images to format them perfectly on all devices. TripleLift is a good choice if the brand focuses on visual content.
Yahoo Gemini
The platform is a combined marketplace for mobile search and native advertising. Advertisers can buy, manage, and optimize their mobile search and native ads, in one single place.
Yieldmo
Yieldmo is a mobile advertising platform designed to optimize revenue for publishers, as well as ROI for marketers, and ad-viewing experience for users. Yieldmo connects publishers and advertisers and helps them reach their audiences in mobile environments.
Zemanta
Because of a diverse system Zemanta is able to compile the original content and optimize it for multiple distribution. This can be through promoted recommendations, in-stream advertisements, in-text ads, and sponsored content on media sites. Zemanta therefore gives the opportunity to distribute content across a variety of channels.



Mobile Native Advertising
Identifying and making available native ad placements within mobile applications.
Appia
Appia is a mobile user acquisition network that delivers mobile app downloads to an extensive audience worldwide. Its platform is built to serve the needs of mobile advertisers.
AppsFire
AppsFire operates an advertising platform for developers and advertisers. It allows users to find mobile apps and also to provide tools and services for developers to market their own apps.
ChartBoost
ChartBoost is a mobile games-only platform designed to increase revenue and discover new players. The platform has a seamless, native experience where ChartBoost makes the mobile video ad feel like a part of the mobile game.
Fyber
Fyber is an advertising technology company that allows app developers to accomplish advertising strategies across connected devices. They do this through an unified mobile supply side platform. Fyber works with developers, publishers and advertisers.
InMobi
InMobi is an independent mobile advertising platform. Their feature aims to transform mobile advertising into a personalized and content-rich experience.
NativeX
NativeX offers a product that allows developers to integrate advertisements into mobile games. With their dedication to data science they use analytics and technology to optimize ad placements. NativeX is known for gathering high quality active users.
Zumobi
Zumobi is a mobile technology company with several partners and multiple brands. The company provides native content marketing solutions for smartphones, tablets, and other devices.

Native Ops
Tools focused on automating the workflow of trafficking native advertising.
Adproval
Adproval allows publishers and advertisers to connect via their media outlet marketplace. Adproval eases the process of managing and selling ad space directly to the sponsor you approve.
Polar
Polar provides a platform which helps the world's largest publishers to build a scalable native advertising business. Those businesses are meant to leverage existing infrastructures, tools, workflows, and processes. The technology is used by publishers to strengthen and grow their digital advertising.
Publish2
Publish2 offers a way to share and distribute news for both print and web publishing. They enable newspapers to create an extensive, customized newswire for print. This is through combining content sharing networks with both free and paid news sources.

Native Video
Platforms that trade in sponsored video, primarily placed in video-rich contexts.
Teads
Teads is a platform for publishers. Their native video advertising solutions cover a series of formats regarding media content. Agencies and brands can access their technology through the web, mobile devices, through programmatic or managed services.
Unruly
Unruly is an advertising technology platform which helps users to track and share videos. They are positioned at the intersection of video, social, native and mobile, and use emotional audience data and user-friendly video formats. By doing this they increase viewer engagement, brand performance and publisher revenues.
Virool
Virool is a video marketing platform that provides users with a self-service advertising platform. Their users are able to promote videos in Facebook games, on mobile apps and various websites. Virool uses an auction-based pricing system which means that the customers determine how much they are willing to pay per view.

Native Advertising DSPS
Demand side platforms which allow you to buy native ad inventory.
Adaptly
Adaptly aims to create unique experiences where brands and consumers have an opportunity to invent, create ads and connect with each other.
Brand Networks
The platform helps marketers to plan, optimize and automate paid and owned content. Brand Networks's platform is designed to help marketers achieve a high level of effectiveness and efficiency. They provide help through its relevance engine across paid, earned and owned channels.
Kinetic Social
Kinetic Social delivers social media ads solutions for brands. They analyze social context data, aggregated from several sources.
Nanigans
Nanigans advertising automation software powers in-house performance marketing teams. They use specific technology to help companies optimize their Facebook advertising.
Optimal
Optimal is owned by Brand Networks and is a social media advertising and analytics platform. They help brands and advertisers to manage social advertising campaigns in real-time. Using a combination of media acquisition and proprietary analytics tools they optimize their platform.
SocialCode
SocialCode is a platform that manages digital advertising for consumer brands. They decode human needs in order to deliver actionable insights from consumer data on advertising platforms like Facebook.
StackAdapt
StackAdapt provides programmatic content amplification and content distribution through in-feed native ads. They leverage real-time, data-driven targeting to reach consumers. StackAdapt's centralized buying platform provides access to native advertising exchanges and premium publishers.
Triggit
Triggit enables advertisers to build, run, measure and optimize retargeting-driven display campaigns. All this from a single platform. They use advanced algorithmic calculations to be able to optimize impression-based pricing and bidding. Also, they are executing real time buying decisions in less than 50 milliseconds.

Native Content
Native content, also known as sponsored content, is a type of native advertising that goes under the headline "custom units". These platforms help you buy and sell sponsored content.
Blogsvertise
Blogsvertise is a blog marketplace that connects advertisers and publishers in order to build traffic and buzz on the Internet. Users are able to choose on which blogs their ads will be exposed.
Cision
Cision is a database where sponsored opportunities are being published and shared with users.
News Launcher
News Launcher allows brands to seamlessly launch sponsored news and immediate brand exposure. The stories are drafted by writers and journalists.
Pressboard
Pressboard connects brands to storytellers to create content with influential publishers.

Publishers
Early Adopters
Sites and site networks that have taken a pioneering role in developing the native advertising space.
Business Insider
Business Insider is a business news website. They publish posts related to finance, media, technology but also other industry-related contents.
BuzzFeed
BuzzFeed is a global social news and entertainment company. They are publishing the latest news, entertainment, original reporting and videos. Online ads are redefined through the way Buzzfeed focuses on the social content.


ClickHole
ClickHole is a satirical website that parodies websites such as BuzzFeed. They strive to make their content panders to and misleads their readers just enough to make it go viral.
Forbes
Forbes is a business magazine that publishes articles about finance, industry, investing and marketing topics. The magazine also features rankings and lists of current topics.
The Huffington Post
The Huffington Post covers online news on such subjects as business, entertainment, media, culture, lifestyle and much more. Their focused content indicates to inform, inspire, entertain and empower.
Imgur
Imgur is an online community where the most popular pictures are shared. This includes the most interesting and popular pictures from the web at the moment.
Mashable
Mashable is a global media company that is targeting the digital generation. They provide news and blog content in a new voice thanks to its cutting-edge technology.
Quartz
Quartz is a digital and global news outlet which specializes in economy. The content is primarily created for tablets and mobile phones.
Refinery29
Refinery29 is a global publisher focusing on women and their lifestyles. It is a destination for women who want to share ideas and join conversations.
The Atlantic
The Atlantic is a magazine known for its reviews and content written by writers and poets. Subjects that are covered can be anything from literature to technology.
The New York Times
The New York Times is a global media organization. They aim to provide daily high-quality information and news to their readers.

Mobile First Publishers
Publishers that primarily focus on leveraging their mobile feeds as native advertising springboards.
Flipboard
Flipboard is an app formatted as a personalized magazine in over 20 languages. As content from different websites is collected, Flipboard enables users to enjoy these feeds and flip through them as they like.
Foursquare
Foursquare help its users to discover search results on a mobile app. Recommendations given from Foursquare are based on previous user data about places and interests.
The Weather Company
The Weather Company shares online weather forecasts and related news on various electronic devices.
Yelp
Yelp is a multinational corporation and publisher of local businesses. Yelp helps people get connected with business that are offering products or services. Ratings and reviews from previous users are also being displayed on Yelp.com or the mobile app "Yelp".
Video Publishers
Video publishers have monetized using native video placements.
Dailymotion
Dailymotion is a video-sharing website on which users can upload, watch and share videos. They work with content creators and provide them with regular contact and support to find ways to promote and monetize videos.
Evolve Media
Evolve Media is a publisher of lifestyle destinations which offers engaging content to their readers. The marketers are offered the tools they need to execute custom, content-led marketing solutions.
Metacafe
Metacafe is providing short-form video entertainment in movies, video games, sports, music and TV. The site shows selected, exclusive and original entertainment-related video content.
Vice
Vice is an online network where original content can be viewed. Vice publishes content related to arts, culture, domestic and international news.
Vimeo
Vimeo is a video sharing platform that allows users to upload, share and view videos.
YouTube
YouTube allows users to upload, view, rate, share and comment on uploaded videos. The content includes music videos, movie trailers, video blogging, Tv-clips, short original videos and educational videos.

Commerce Publishers
Hybrid e-commerce sites leverage natively-placed ads as a method to monetize shopping traffic.
Amazon
Amazon is an internet-based retailer and content creator. The platform operates within electronic commerce and cloud computing. Today, Amazon sells everything from electronics to food and jewelries.
Fancy
Fancy is an e-commerce company that allows users to post and share photos through their webstore or mobile application. The company functions as an intermediary between retailers and consumers. The consumers are able to make purchases direct from Fancys's platform.
Houzz
Houzz is an online community which publishes photos, articles and product recommendations. The content is related to architecture, interior design and landscape design. It enables users to connect with each other through a forum on the platform and mobile apps.
Thrillist
Thrillist is a digital media company which blends content with commerce. They focus on informing males how to spend their time and money across their favorite lifestyle categories. They publish posts about food, drink and travel.
Wanelo
Wanelo is an internet-based mall with products from small to large brands. Over 300,000 stores are posting their products on Wanelo's site.

Social Network Publishers
Communication sites that reach out to many people at the same time.
Facebook
Facebook is an online social networking service that enables its users to connect with other people. The platform is great for driving awareness to articles in a cheap way, but it is a less effective solution for increasing subscriptions.
Instagram
Instagram is a photo sharing application. It enables the users to take pictures and videos, apply filters and share them. Besides photo editing it is possible to geotag images with longitude and latitude coordinates, or the name of a location.
LinkedIn
LinkedIn is a professional networking site. It allows its members to create business relations, search for jobs and find potential clients. Most of the site's revenue comes from selling access to information about its users to recruiters and sales professionals.
Pinterest
Pinterest is a web and mobile application for saving and discovering creative ideas. It is a photo sharing website where users can upload, save, sort, and manage images and media content. Pinterest acts as a personalized media platform.
Snapchat
Snapchat is a video messaging application. The application allows its users to take photos, record videos, add text and drawings to them. Snapchat makes it possible to send these photos or videos to a controlled list of recipients.
Tumblr
Tumblr is a microblogging platform and social networking website. Tumblr allows users to follow other users and to post multimedia and other content on a short-form blog.
Twitter
Twitter is a global social networking platform that allows its users to send and read 140-character messages. Twitter allows advertisers to pay per engagement, such as retweets, replies, favorites, profile views, and clicks.


Vine
Vine is an online platform that enables short-form video sharing. Users publish their videos through Vine's social network and other users can watch and share it on other social media.

Bloggers Networks
A network where bloggers are hired to write content on a company's blog or get paid to write content on their own blogs.
BlogHer
BlogHer is a female-based network which gives bloggers a revenue share from campaigns that run on their blogs.
GroupHigh
GroupHigh is a marketing software that allows companies to find bloggers that write about any topic. GroupHigh simplifies the process of creating relationships on social communities. The aim is to help companies find the most suitable bloggers for future campaigns.
IZEA
IZEA is a marketplace that connects brands with social media content influencers.
Markerly
Markerly is a brand amplification platform. Brands enable users to measure their performance in order to optimize their campaigns. The idea is to connect brands with influential bloggers.
Sway Group
Sway Group is an online platform where female bloggers are able to connect with brands and agencies.
The Syndicate
The Syndicate features a sponsorship network with brand storytelling partners and blogs.

Measurement & Optimization
Content Analytics
Measuring how companies' content is performing in order to optimize content development.
AddThis
AddThis personalizes the web with easy-to-use content engagement tools, APIs and services. They help advertisers to monetize and boost the traffic.
Nudge
Nudge is specialized in native ad measurement. They help buyers and sellers to understand, analyze and improve the performance of content. Nudge also uses benchmarking across content type and industry. For agencies Nudge provides a comparison of their buys, holding a record of note to compare. To publishers, they show the ROI of the content they are selling by measuring the content effectiveness and attribution.


SimpleReach
SimpleReach analyzes real-time data on social media to identify what content is driving traffic. They also analyze where paid distribution dollars are best spent.
TrackMaven
TrackMaven offers competitive intelligence for digital marketers. They analyze the marketing content across paid, owned, and earned channels.
Visible Measures
Visible Measures provides third party measurement solutions for Internet video publishers and advertisers. Their services help users to measure video content consumption and distribution.
If you have any suggestions please leave them in the comments below or tweet us @giveitanudge.com.
---