One big thing
I spent some time in LA this week, chatting with a cross-section of content creators. The consensus was that Netflix has been a net positive for the ecosystem.
One takeaway was how everyone is on the hunt for the next great content idea/series. Where and how can they get an edge on the next cultural moment? The competition and hunt for that (and data) is more fierce than ever.
It's completely analogous to the competition for attention in branded content. That is the true threat today, cultural irrelevance.
Notable stories this week
Campaign of the week
Netflix on The Atlantic with a piece called 'Introduction Coerced', on how police interrogation methods lead to false confessions of the Central Park five. A great article created on the back of Netflix's 'When they see us on Netflix' series.
SunChips and Today teamed up ahead of the launch of SunPuffs. Together, they are bringing fans exciting content and a live event with the help of charismatic Mom duo, Cat & Nat, the force behind #MOMTRUTHS. Here's one of their recent pieces 'Moms: Reclaim your snack break'.
Submit your own and view the best campaigns of 2019.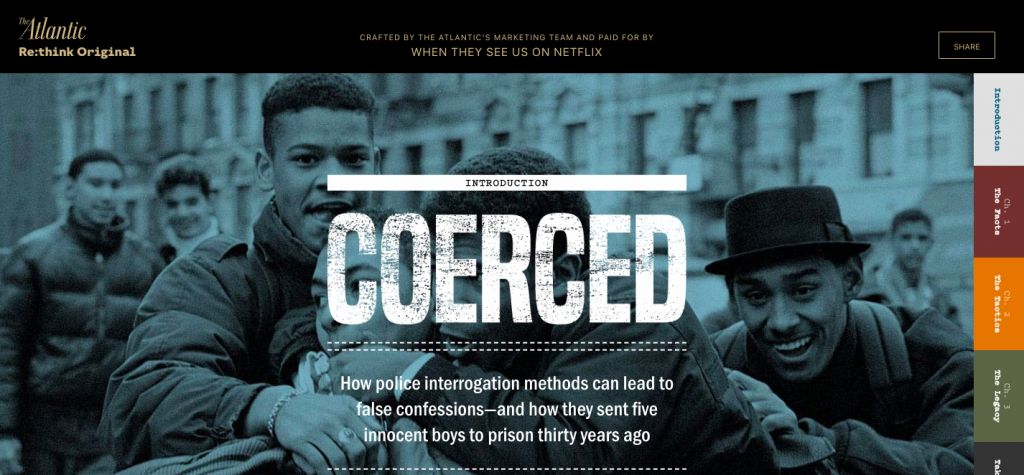 Smartest commentary
Datapoints of note
Thanks,
-Ben
Measurement and intelligence for content-first brands.
Nudge is built by marketers and aims to serve brands investing in content-based media, across any category, looking to illustrate ROI, generate deep performance insights, and save time.
---