At Nudge we believe in content, and our platform was created out of a need to understand how content performs when it becomes advertising. Building a successful brand stems from the relationship brands develop with their consumers. Content that is rooted in meaningful storytelling meant to inspire, educate, and entertain is a great tool for nourishing that relationship. This is why
finding the right audience is so important, a task that is rooted in distribution.
The promise of programmatic is the ability to target that right audience with your compelling message at the right time, so bringing rich stories to audiences via programmatic "native advertising" has been a growing trend. As "native" and programmatic display become one in the same,
there's a need for a solution that allows programmatic buyers to move beyond the click in order to move their focus beyond impressions and clicks alone
. It turns out, that solution is something we'd built into our product all along. Nudge can help you understand the quality of your media with post click metrics, so that you can optimize your distribution accordingly. Read on to find out specifics of some
previous work
, the
features
that you can use for optimization,
how you can do it
, and at the very least get inspiration to start thinking beyond the click.
Get started with Nudge today! Schedule a demo today or read on to learn how we've helped our clients excel.
Nudge in Action
A global hotel chain approached Nudge to find a solution to the problems they identified in their "funnel" and "customer journeys". This was evidenced by a high bounce rate and a lack of conversions. With strong creatives and ad placements, traffic and scale were not the problem. The campaign launched with great first "impressions" and garnered high ad engagement. So why did the hotel chain's campaign have issues with high bounce and conversion rates? Due to the nature of the ads, users expected more imagery and travel-based content, when in actuality they were landing on a booking page. Since the hotel chain didn't want to change their user journey mid-campaign, an alternative solution had to be found. In response to the hotel chain's issues with high bounces and lack of conversions, alterations to how traffic was being distributed had to be made. They needed to know by what qualification and when to optimize their traffic. Nudge was the solution that allowed them to do this in real-time. With Nudge, they could see which publishers were driving the higher bounces and a lack of conversions.
By monitoring the data closely, they were able to optimize their traffic by eliminating sites from the campaign that were producing shorter user sessions, resulting in lowered bounce rates and increased conversion rates
. Being able to optimize for bounce and time spent has been a real lifesaver for the hotel chain. Nudge has allowed them to execute on and grow campaigns that would have otherwise been lost due to high bounce and low performance.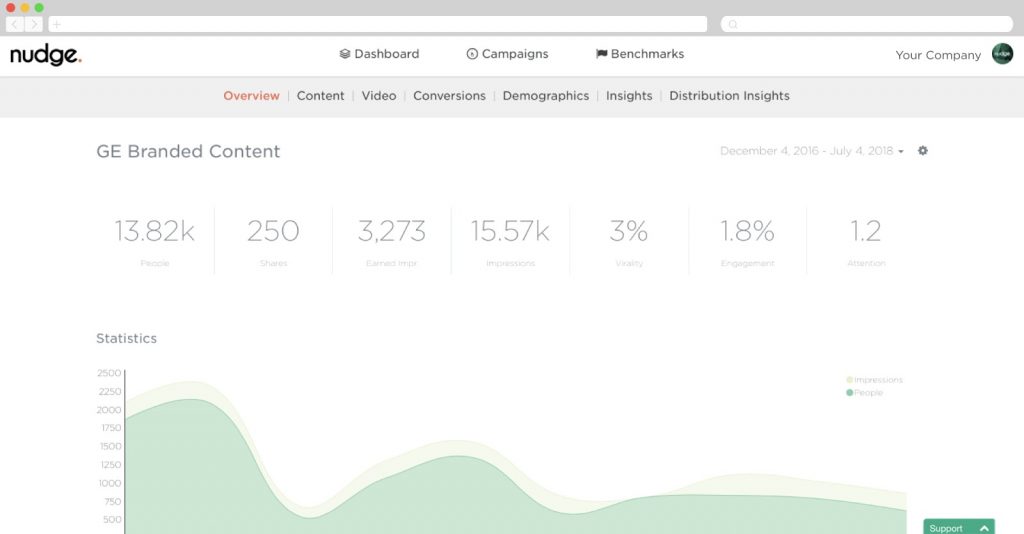 Curious to know how Nudge can help with your next campaign? Schedule a demo today or read on to find what features you can utilize.
Features
Real time data
One of the benefits of programmatic advertising is that it's in real time, as is Nudge's data capture. This allows you to make adjustments as your campaign is running.Brands use this to quickly lift the bar, typically improving ROAS 20% in the first week.
Engagement
Seeing the number of impressions your ad generates is good, but knowing that your audience is engaged is better. Nudge offers metrics such as average
attention minutes
, so that you can see how much time your audience spends actively engaged with your content. Our tool can also identify time to scroll and scroll depth.A travel brand had worked with celebrities to create eight iconic pieces of content. They were promoting it heavily – but it wasn't working. They used Nudge to identify that 2 of the 8 pieces were getting the most consumption, so concentrated efforts on those.
Distribution insights
Our distribution insights provide real-time analysis of traffic sources to a piece of content. We surface attention measured in seconds, scroll, and bounce by placement, creative and even domain. Begin optimizing your ads to better serve your KPIs and the overall goals of most campaigns to drive and lift overall brand performance and engagement.A DTC brand wanted to compare the difference between Facebook and Open Web native on their campaigns. They saw a 76% higher return on open web, and adjusted distribution.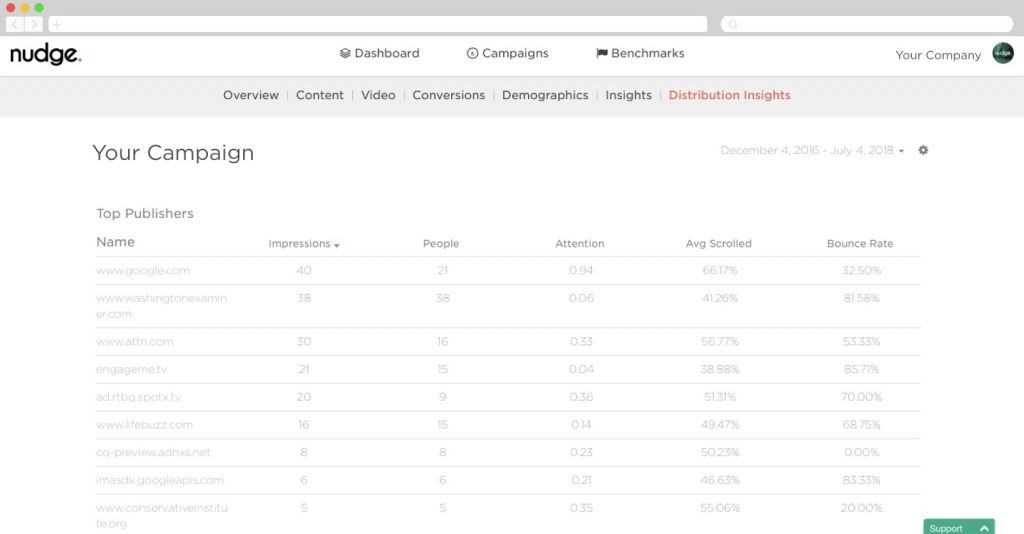 Benchmarks
Industry benchmarks compiled from anonymized data of all the content that we measure in a quarter. This includes content from brands and their agencies, publishers, as well as content from our integration partners like Sharethrough and Polar. Get an understanding of how your content fares against competitors.We've had a bank launch and notice within 3 days that their content was 80% below industry benchmarks. Addressing this, they saw an immediate lift on their performance.
Impression and Click Tracking + DCM redirects
The Nudge click tracker is great for tracking clicks and ad unit impressions. Create a click tracker by using the global Nudge URL with the addition of a few parameters such as the account ID and type of event. One of these parameters is the option to set up a redirect.
Fraud Protection
Ad fraud is one of the biggest concerns of programmatic buyers. Make sure that the impressions being reported to you represent real humans and not bots, good or bad. Due to Nudge's depth of analysis we are able to identify and filter out bot traffic.Nudge has blocked 267 million bots in 2018. Our attention and bounce metrics could also help detect bot traffic as bots will generally result in high bounce and very low attention.
Spectrum
By using first and third party data, you can reach the right audience. Nudge Spectrum is a tool that we developed to help you do just that. It's a pure data product which allows publishers and brands as publishers to create custom audience segments based on their content engagement and activate them via FB, the Trade Desk, and more.
Implementation
Excited about the features that were discussed above? Implementation is simple! To get started with Nudge, just drop our line of javascript on the content that you'd like to track

or authorize access via your social profiles.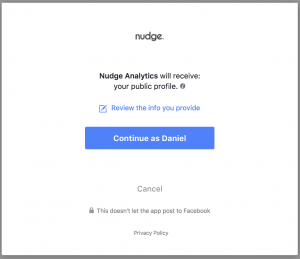 Benchmarks come loaded into your dashboard out of the box.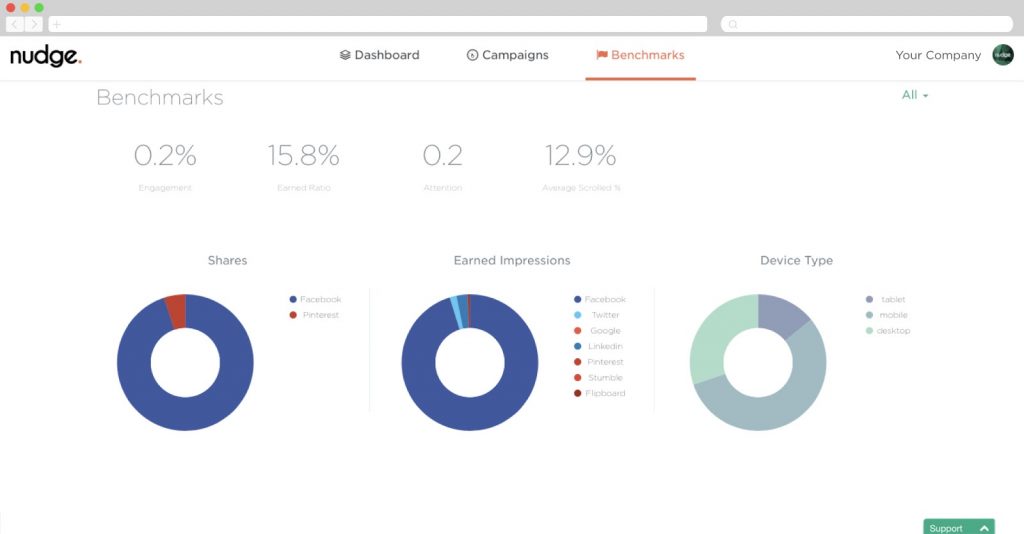 To set up distribution insights, make sure the feature is turned on on your account. After that append ndg_pu to a traffic source to specify publishers and override the referrer domain. Likewise, append ndg_pl to specify the placement and ndg_cr to specify creatives. This will allow for you to get a deeper view into how your distribution is performing
If you're interested in learning more about how you can use Nudge to amplify your programmatic buying, schedule a demo today or email jessica@giveitanudge.com!