Saying they have been able to replicate human behavior more closely than ever before, researchers at MIT unveiled Tuesday a remarkably advanced robot that is capable of committing thousands of mistakes per day.
Source: 
The Onion
Why we like it:The idea of bringing The Onion satire through to a piece of sponsored content is great.
Quote of the Week:
Source: 
@

evanatmedium
News:
The report, which is expected to be released Wednesday, comes from 487 U.S. marketing professions that 614 Group and OneSpot surveyed about content marketing in May and June 2014.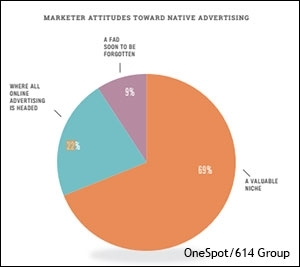 Source: 
Media Post
A new head of business strategy and a focus on native ads mark Reddit's new focus on money.
Source: 
The Guardian
Ad execs weigh in on the secrets to successful native advertising and pick brands they think are leading the way.Source: 
Yahoo
LinkedIn's direct sponsored content offering is different. Direct sponsored content affords the opportunity for a brand to identify and target a specific audience and pay to promote content specifically to that audience.
Source: 
LinkedIn
Events
We're doing it again, please do join us next week for the New York Native Ad drinks, August 7th, come along meet some interesting people. Space is limited. 
RSVP here
.
..
That's it for this week.  If you'd like to contribute next week or send us a story tweet us 
@giveitanudge
.
Like this email? You can subscribe here.