One big thing
At the Goldman Sachs Technology and Investor conference, Twitter CEO, Jack Dorsey suggested they were exploring tipping tweeters. Thus providing a financial incentive to those who create the best content. Now, what does that sound like? Kind of like SnapChat's Spotlight or TikTok's Creator fund.
If content creators are able to wrangle the cosmos to entertain, educate and draw attention they'll be rewarded for it. Creating alignment between the platform and the creator.
Content is becoming the transactional unit. I send you a gif, you send me a gif. If others like it, we get paid. And that's pretty neat.
If B2B influencing is your vibe, LinkedIn just launched their Creator program too. ?
Notable stories this week
Deals/M&A
Campaign of the week
Accenture partners with CNBC to highlight some of the latest trends impacting businesses.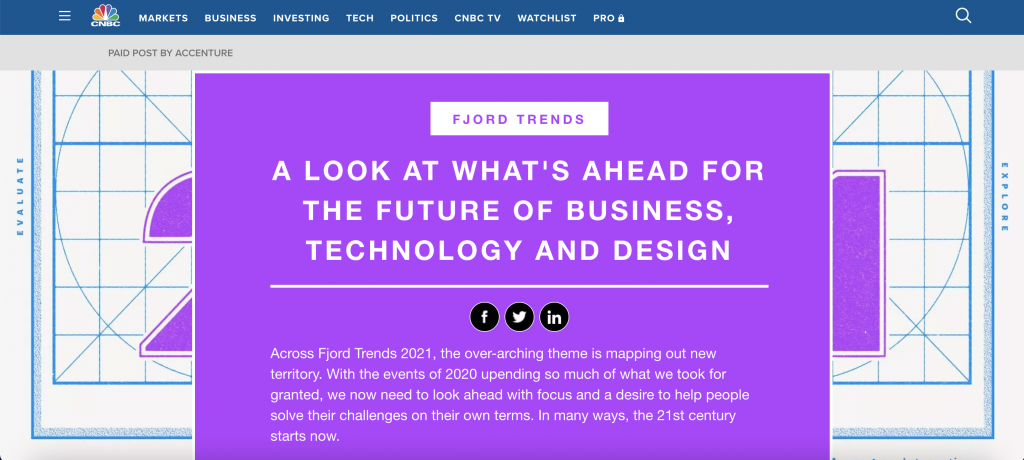 Smartest commentary
"A brand has fans before it has customers. A brand that prioritizes organic, community-driven growth versus rapid customer acquisition develops a lasting social influence." –Ana Andjelic
Datapoints of note
See all our Covid-19 data here.
Spotify has tripled the number of podcasts in the past year to 2.2m.
That's it for this week.
Thanks,
Ben