It's not that you don't know how to optimize, it's finding which smart optimizations there are to make on your content. Nudge is built from the ground up on two key values, transparency and efficiency. The platform gives you the transparency to deliver efficiency in your content marketing. And better efficiency is going to drive your content marketing ROI. The challenge for content marketers is that it's hard to weed through the data and find out what's working. Making this harder is that typical metrics like Time on Page obfuscate how people really engage with your content. If someone clicks on an article, reads it and hits the back button you don't capture that insight. That's the neat thing about Nudge; when all your metrics are more precise, you can see exactly what needs changing.
Get in touch with an account manager today
, to learn how Nudge can work for you.
How Nudge Helps Marketers Optimize Content Campaigns
Here's some examples, our Marketing Manager found when he joined the team.
1. Changing bets DURING the horse race
You always have this inkling that it's not necessarily about creating more content, it's about finding what's working and improving on that. With Nudge metrics, you can easily do that… …Using Attention Minutes as an example, this measures down to the second how long people are spending actively on your content. This level of content intelligence, lets you see exactly how much impact your content is having. And then, makes it easy to change your horse during the race.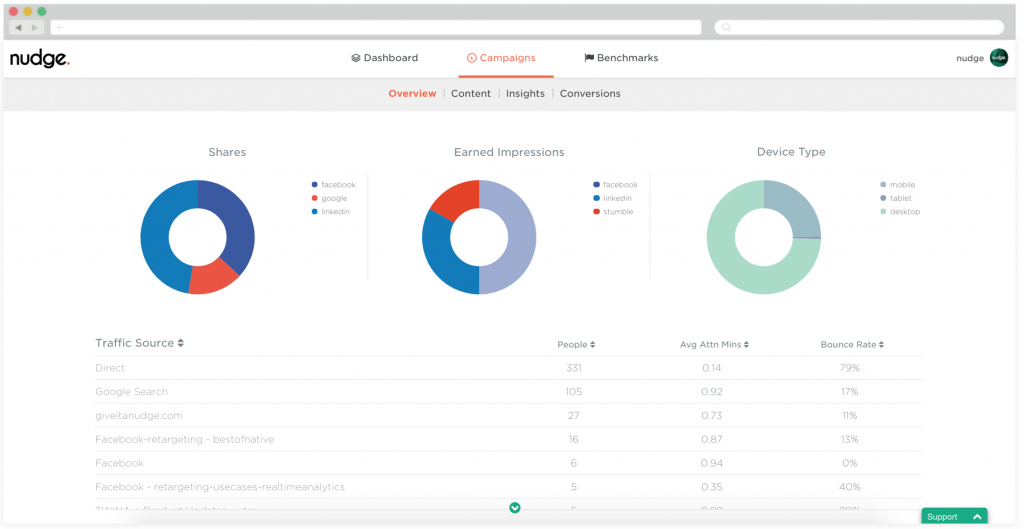 From this, I can see which traffic sources that are performing the best, content and device types, headlines and more. The beauty with Attention Minutes is that it has the ability to overlay other data sources, giving marketers more granular data.
2) Content Attribution, business outcomes are the ultimate yardstick
Content is created with a purpose, that purpose is to earn attention and persuade an audience. When it comes to optimizing your content marketing, being able to identify which content is driving business outcomes makes it super easy to allocate your attention.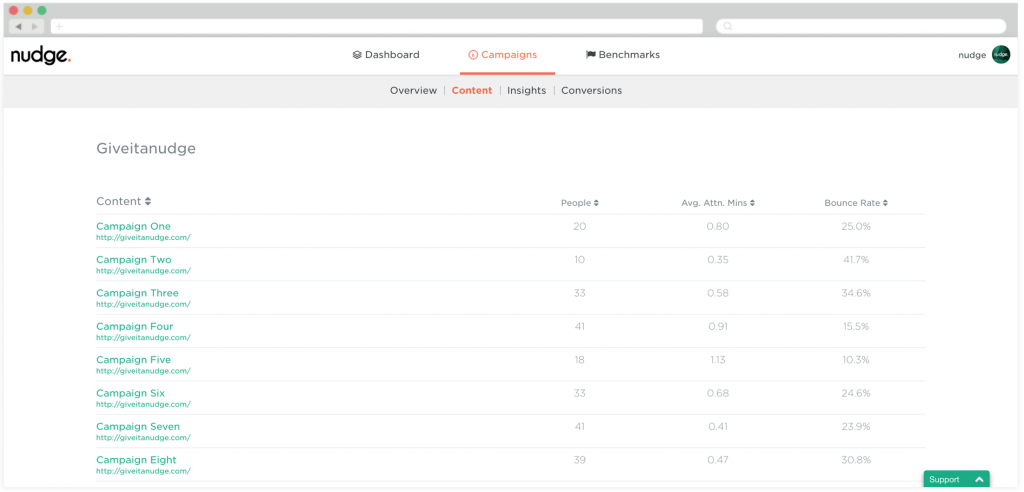 With Nudge, one of the easiest ways to understand the value of your content is to look at purchase intent. You do so by tagging content that's part of the buyer journey, which enables you to very quickly understand conversion paths across touchpoints, identify what content that is driving those actions, see which distributions sources that are the highest performers and learn about the best time to convert.
3) Post-click metrics for content distribution
Not all clicks are created equal. Nudge help agencies, brands and publishers zoom into quality over quantity by enabling them to sift out low-quality clicks in order to get to the real ones. Our post-click metrics equips marketers with the tools for ultimate campaign transparency.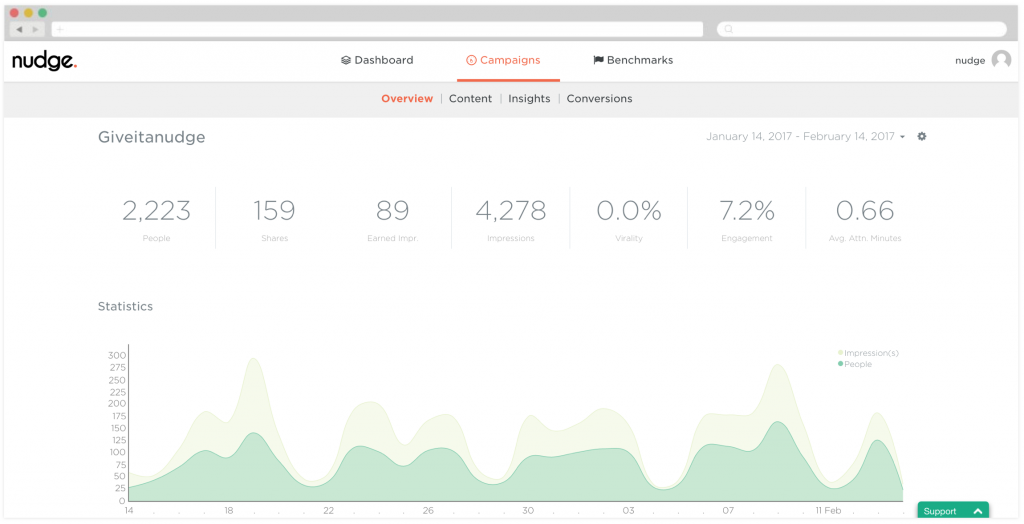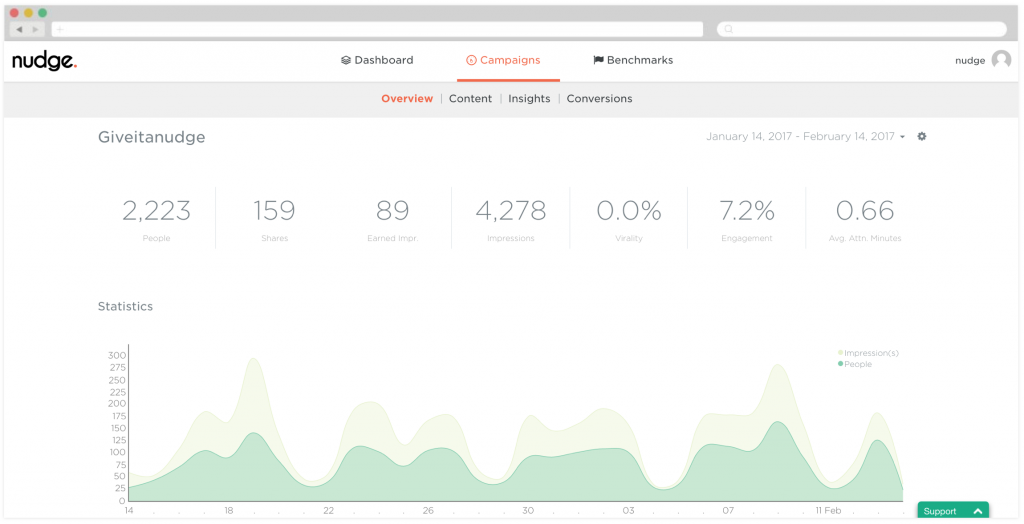 Post-click metrics help you with questions like, is Facebook a good place to distribute my content? Are influencers a good way to distribute content? Mobile vs Desktop? Other things post-click metrics helps you understand include:
Content formats – breakdown by categories and/or audience etc
Devices – breakdown by categories and/or audience etc
Publishers – see where you're receiving the greatest return
Ad placements – quickly identify a good environment over another. If you have the same ad on different websites you'll soon see which is better due to the live environment.
Interested in learning how this could work on your content?
Drop us a line and we'll get back in touch.
4) Frame up success with industry benchmarks
With Nudge Network Benchmarks, our clients are able to understand comparative value against other campaigns until industry-specific norms are established. We use normalized metrics built for purpose as native requires a blend of content, social and advertising KPIs, delivered quickly.
Nudge ceaselessly pulls average campaign results across all measured native campaigns, as well as across each category (i.e. food & drink, technology, automotive) in order to give clients the best possible insights that never goes out of date.
Top reasons for why agencies need to use benchmarks
Contextualize performance.
Hold partners accountable.
Help identify areas of performance and improvements for next campaign.
Reporting.
Set KPI's.
Top reasons for why publishers need to use benchmarks
Arm sales team.
Establish KPI's.
Reporting.
Allowing the ad-hoc team to consistently deliver high performance.
5) Tell better stories from your data with automated insights
Marketers spend countless hours trying to figure out what's working best in their campaigns. Nudge makes it easy to acquire vital insights instantly, by automating the entire data collection process. When the data has been compiled, the insights are displayed in one dashboard.
Nudge Insights puts marketers on the front foot, getting insights on the fly, such as:
The most viral piece of content
The top social network
Average earned impression number
Time of day/Day of week
What piece of content drove the highest attention
Devices that are driving the highest attention
Through our insights feature, marketers are handed great soundbites to share with their team/clients. Instead of optimizing based on 'gut feel', you can ground it in data.
Summary
So with Nudge, you simply log in to the dashboard and get instant access to all of the aforementioned metrics and capabilities.
We get you from insight to action, quickly.
Our metrics permit marketers to allocate spend behind the winners, and make necessary improvements to under-performing assets. In a world of increasingly chaotic campaigns with many moving parts, Nudge helps optimize spend and minimize waste.
Get in touch to learn how this can be applied on your content
.