The Tokyo 2020 Olympics starts July 23rd through to August 8th 2021. Despite the delay from covid-19 pandemic the games are still referred to as Tokyo 2020.
The aim of this post is to provide resources for marketers in the build up to the olympics games, during and after. Bookmark this page and revisit, follow @giveitanudge for updates to the page. Our take, or lens, is how brands use content marketing in and around the games.
Beyond the obvious, why are these particular Olympics so important? The games are first major, global event, that provides a beacon of hope as the world recovers from the pandemic. For many brands it will be their first big initiative and sets the tone for the remainder of 2021. It is also where marketers will see and test their post-pandemic strategies.
---
What's in this post:
---
Key information
Duration July – 8th August.
The next games are in Paris in 2024 and Los Angeles in 2028.
Opening ceremony is on 8pm, 23rd July, Tokyo time. That is, 4am in Los Angeles, 7am in New York, lunchtime in London and 11pm in Auckland.
11,091 athletes expected, 339 events over 33 sports.
The official hashtag is #Tokyo2020.
---
Olympics Culture
The five rings represents the unity of the five continents which participate. The colors were chosen because each of the countries flags has at least one of those colors. The Olympic motto, Citius, Altius, Fortiius means "Faster, Higher, Stronger".
The Olympic creed is:
The most important thing in the Olympic Games is not to win but to take part, just as the most important thing in life is not the triumph but the struggle. The essential thing is not to have conquered but to have fought well.

Olympic Games, Wikipedia
---
Tokyo 2020 for Content Planners & Content Strategists
We put together a few slides, as thought starters as you hone in on your Olympics marketing. You can download the slides below.
---
Olympics Marketing Resources
---
2020 Olympic Sponsors
The global partners are AirBNB, Alibaba Group, Atos, Bridgestone, Coca Cola, Dow, GE, Intel, Omega, Panasonic, P&G, Samsung, Toyota, Visa.
View all local partners.
Kodak advertised at the first Olympics & Coca Cola has advertising in every Olympics since 1928. The 1936 Berlin games were the first to be broadcast. Source: Wikipedia.

This cartoon from the 1936 Olympics 'imagines what the year 2000 when spectators will have been replaced by television and radio, their cheers coming from loudspeakers'.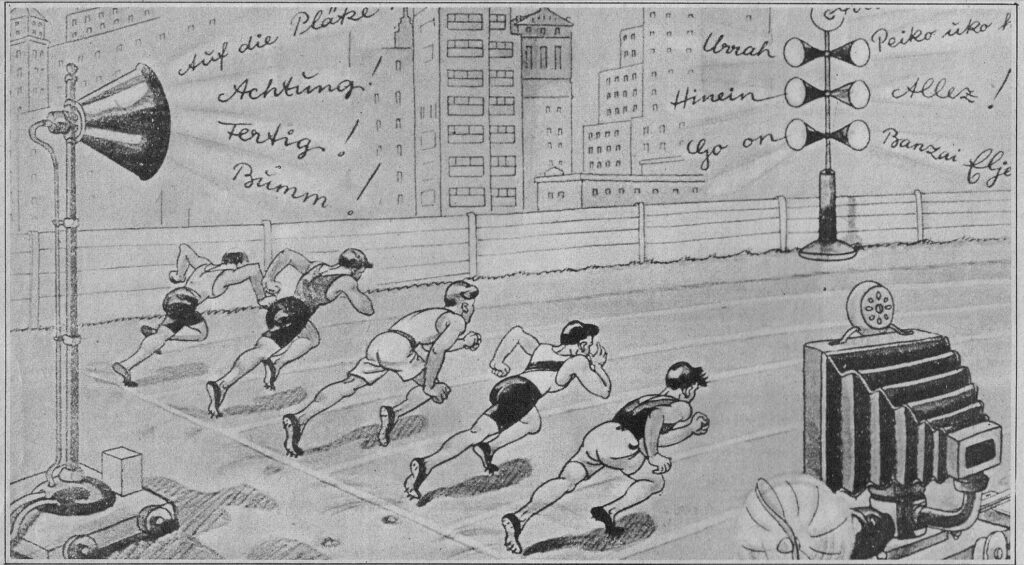 ---