An effective content marketing strategy will make everyone's jobs easier and ensure you are being productive and not just busy. 
The best strategy is the one you use. The simpler and clearer it is, the more effective it will be. 
Example One Page Content Strategy
We have created a template, which you can use to help draft your content plan. 
Here's how you use it:
Copy it or Print it out. Fill it in.
Take it to stakeholders, get their feedback.
Adjust.
Then chat with some peers, what do they think.
Adjust.
Then re-circulate with everyone.
You can make a copy of our Google doc here or download PDF. What the document looks like is shown below.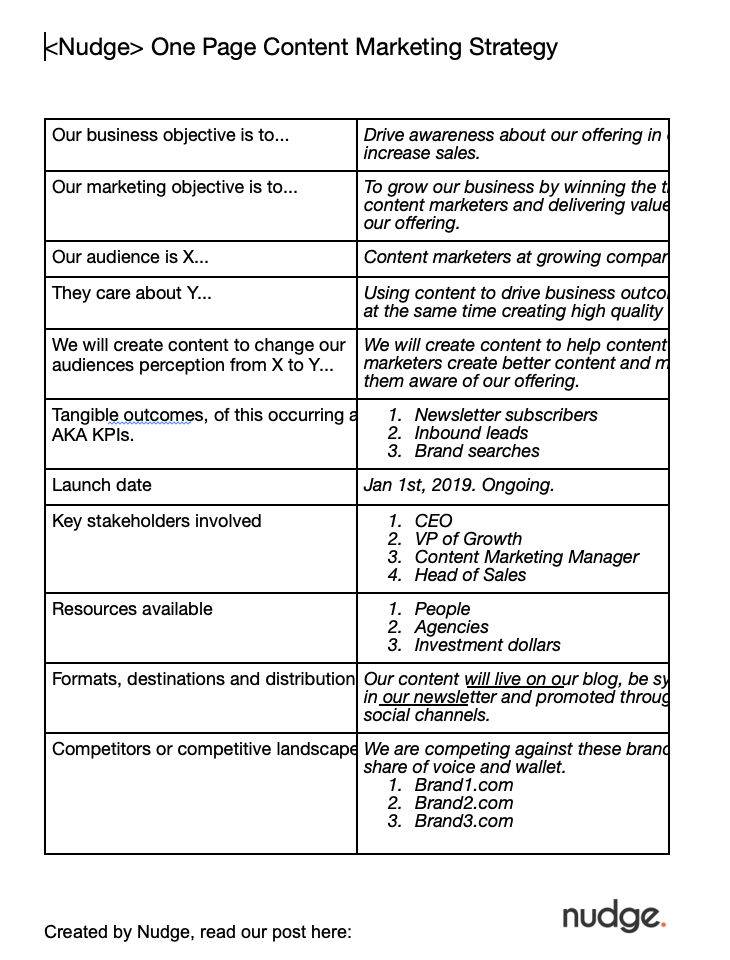 Examples of Content Strategy in action
Finding references that you can model to your own situation will greatly help in executing on the content plan.
For examples of content marketing strategies in action, visit here.
A recent innovative example is SalesForce+, where SalesForce wanted to better engage existing and prospective customers. So they created their own streaming channel, leading to millions engaging with it. 
Or Oatly, who created a lot of rich content around the brand culture on their website. To help drive word of mouth and engage their loyal customers. 
Once you start looking, you will see content marketing everywhere. Even early cookbooks were examples of content marketing, providing the recipes, which included ways to use the manufacturers ingredients. Smart huh.
..
This is part of our Guide to Content Marketing Strategy.
..
---