Edition #403

On beating TikTok, AI content, google helpful content changes and the uncanny valley.
---
I liked Tim Hwangs framing on the TikTok situation, the aim should be to outcompete it. Yeah, if you don't like it and have a better product, yes, bring it market, do a better job, lift the standard, engage folks more.
And this is what Artifact is doing, it's not just a Pocket or an Instapaper, it's adding community and now AI interpretation of content to distill it to the basics. i.e. give me the ELI5 for this content. Smart. If that helps expand the reach for a story, and then folks can click through to the source, that's a win.
And this presents a framework for how Google may tackle indexing of content in the long run. A topic which Ryan from Animalz digs into, what could a new SEO / content world look like when AI is prominent. The core pillars of having a reputable brand, and additive content or point of view, seem to cut through.
He touches on a Google patent, about Information gain. "One of Google's patents already offers a speculative solution to the problem of copycat content: information gain scores, rewarding articles for bringing new information to the discussion and penalizing those that don't."
"Instead of the current system that rewards companies for "skyscraper"-ing existing search results, brands could be rewarded for conducting research and deviating from a given SERP's status quo."
He goes on, this could entail things like: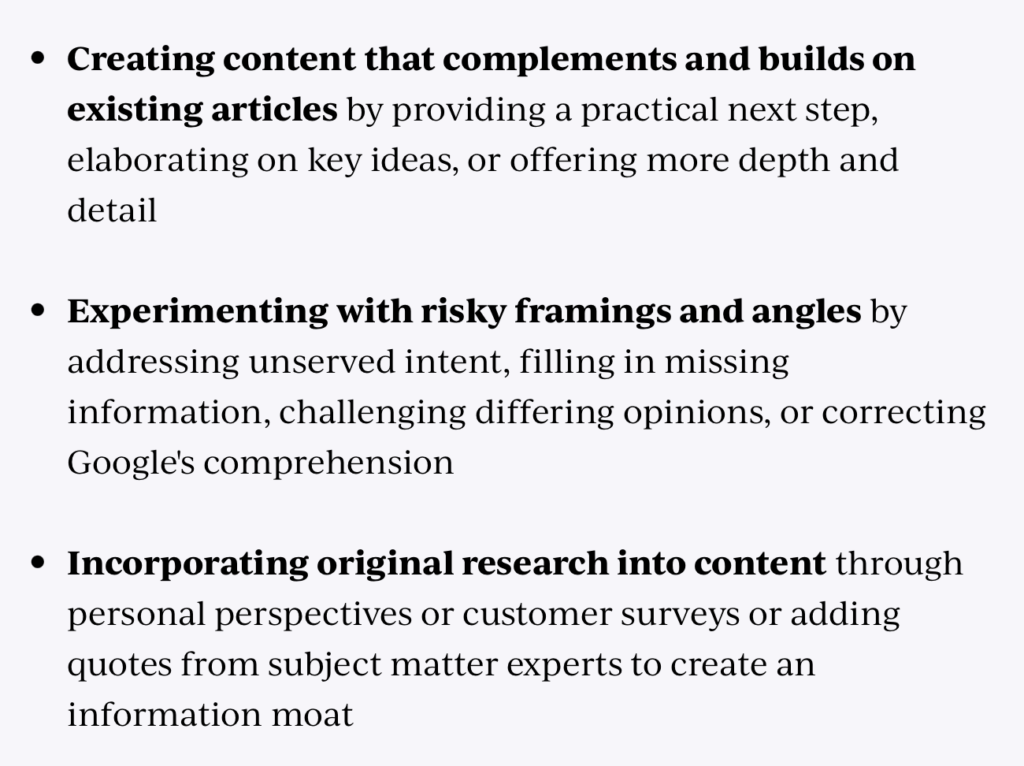 Net net these feel like a positive leap forward for search. It's frustrating to click on a result, to only get a slight regurgitation of the top result. It doesn't built trust, nor word of mouth.
Now word of mouth marketing is a term that comes and goes but the effect is always there. And to be fair, I don't think gets enough credit. If you do good content, that is worth sharing or talking about, people will and do. Even in an AI world.
Notable stories this week
Deals/M&A
Vice Media preparing to file for bankruptcy. Still engaged in talks to sell itself.
Yahoo's readiness to transform business tested by acquisitions, partnership.
Lebron James Springhill is circling complex networks, as its current owner BuzzFeed struggles to regroup after layoffs.
Campaign of the week
Atoms partners with creator MKBHD to create his own sneaker.
View all 2023 best campaigns.
Smartest commentary
"The path to winning is not to ban TikTok but to outcompete it." –Tim Hwang.
[On AI content & search] "In the presence of copycat content — where the words on the page across competing articles are largely the same — Google could place greater emphasis on off-page ranking factors, like backlinks, as a means of differentiating between similar content.

Big, recognizable brands with established backlink moats could become even harder to challenge.

" –Ryan Law, Animalz
Datapoints of note
That's it for this week.
---