Campaign of the Week:
This month's advertising launch for VW's redesigned 2015 Golf puts the car at the center of a zany online video on Funny or Die, the comedy website founded by comedian Will Ferrell. The three-minute video is a piece of so-called native advertising, a hot new format in marketing circles in which publishers host content that looks like their own but actually comes from advertisers. The idea is to place advertising in new spheres as consumers shift toward new online platforms and away from TV.
Source: FunnyorDie
Why we like it:
Great content that entertains whilst taking you through a Target store in a Volkswagen. It gets a little cheesy towards the end but perfect for the Funny or Die audience.
Quote of the Week: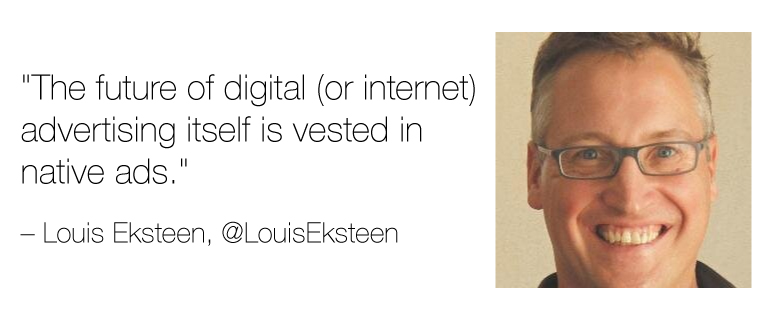 Source: The Media Online
News:
GumGum, a company that offers ads appearing inside Web images, is partnering with Xaxis to sell its unusual inventory programmatically. Indeed, whether one is talking about TV, online video, display or mobile advertising, the marketing world is moving toward more automated buying and selling.
Source: AdWeek
Have you seen the November issue of The Atlantic? It features a fantastic cover story by James Fallows titled "The 50 Greatest Breakthroughs Since The Wheel."The piece covers everything from the printing press, No. 1 on the list, to the combine harvester, No. 50.
With a few modifications, this article could have been turned into a native ad for GE, and it would have been the best native ad written so far.
Source: AdAge
Publishers are used to spending an inordinate amount of energy trying to attract media buyers, but now they're also playing the role themselves.
Publishers like Vox Media, BuzzFeed and Complex all have in-house ad-buying capability, part of a shift by publishers in how they think of audience development. Gone is the "build it and they will come" ethos, Instead, publishers are resorting to the brass tacks of building audiences through a variety of methods, including paying for distribution of content.
Source: DigiDay
Rumor has it Google is preparing to take the native advertising plunge, which should have a big impact on the way you distribute your content.
According to AdExchanger, insiders are reporting plans that include "ad-serving support for sponsored posts on premium publisher websites, and a content recommendation engine of the sort pioneered by Outbrain and Taboola, both of which may launch in 2015."
Source: Contently
Events:
Next week is AdWeek, with a number of Native Ad topics, from Native Programmatic with TripleLift to a mini Native Ad Summit with ShareThrough.
Please do come along and contribute.
This kicks off a new season of J-Talks with Native Advertising. This panel discussion is part of the CJF J-Talks series, exploring issues and challenges shaping journalism.
Thursday, 2 October 2014 from 6:30 PM to 9:30 PM (EDT)
Toronto, Ontario
Nudge has been nominated as one of the most innovative companies to be featured on the Industry Index.  In order to be among the top performing companies on the Industry Index and during the Innovation Leaderboard, we need marketers to vouch for our technology.  Please rate our technology anonymously via the following link: http://industryindex.com/companies/rate/nudge.
AS A BONUS for participating, you will immediately unlock free access to www.IndustryIndex.com, a platform to enables brands, agencies, ad tech and media companies, to share learning's across the digital marketing landscape.
..
That's it for this week.  If you'd like to contribute next week or send us a story tweet us @giveitanudge.
Like this email? You can subscribe here.
---