Edition #366
Netflix has executed flawlessly, Rolling Stone pivots to creators and Quartz takes down the paywall.
---
One big thing
Netflix announced they will explore ad-supported tiers. And to the contrary of headlines I think they have executed flawlessly in this regard. They have pushed the model as far as they can and now its time to adapt, to capture more market share. That's probably not what you've read this week but that is objectively what they've done.
That being said, it comes amidst chat and analysis that suggests their content isn't cutting the mustard. Despite a spend in excess of $17b, they have content. But is it the best content? Are they squeezing as much as they can? As I tweeted, when the brief is to make the content spend work harder and smarter, that leads to an investment in data & analytics. We've found top performers spend as much as 20% of their budgets on this area, Netflix's total technology spend is 10%. Thus they are underinvesting as much as 4x below what they should.
I wrote back in 2015 that ads were inevitable. Many did. But so this development many in the industry excited. The opportunity for brands, will be to attach to culture. Who will be the Mailcrimp of Netflix? What shows should brands support? Should they be brought to you by, or advertorials during the shows. Or regular ad breaks. Maybe you use it to highlight your own brand journalism.
Time and time again, we've seen digitally integrated campaigns work better together. This could be an exciting new tool to add to the toolkit.
Who loses out when Netflix does this? Well it's likely they'll test it in other markets. As they are doing with password sharing plans in LATAM. And in those territories there is less depth to the CTV markets, meaning local broadcasters will lose out, from their typically local OTT channels. It will also put pressure on the open CTV ad system, as people basically play musical chairs and move up the stack. Netflix will need to step carefully, having faced hurdles in the past with pressure from local broadcasters and state funding for local content.
One thing that Netflix CEO emphasized is consumer choice. There will be subscription based tiers, and ad-supported. And I suspect that will filter through to whatever path they make. You choose.
Notable stories this week
Deals/M&A
Musk unveils his Twitter financing.
Campaign of the Week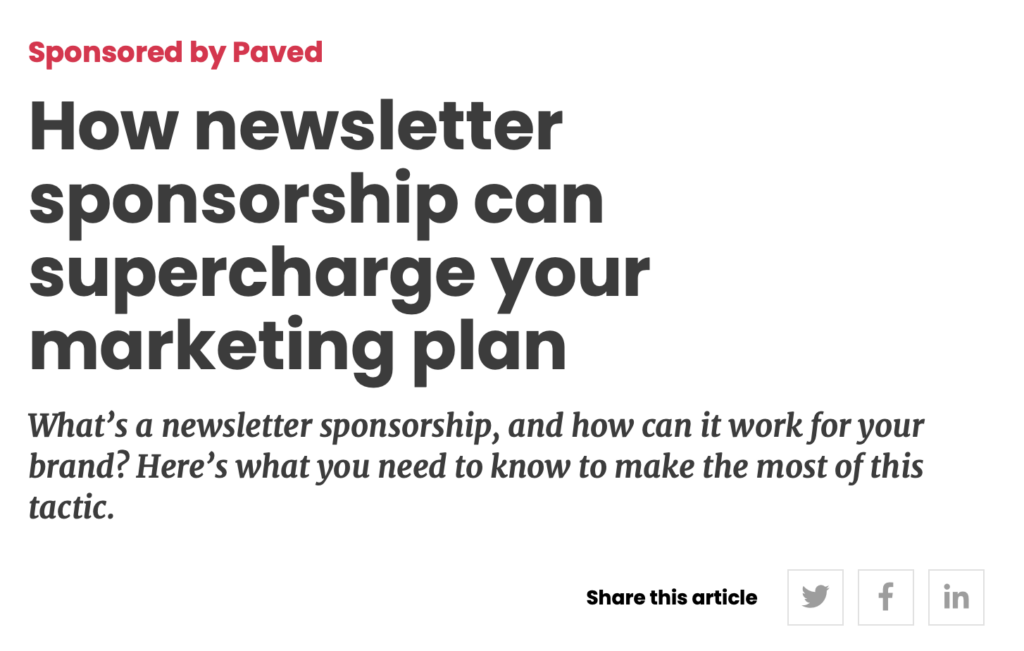 Smartest commentary
"What we learned pretty quickly is that people don't mind reading a good story even if it comes from an advertiser. In fact, they'll be more than happy to share it" –Tim Clark, VP Brand Journalism, SAP
Datapoints of note
That's it for this week.
---