As part of our Enterprise services we offer Benchmarking. This is a part of the dashboard which shows you your benchmarks. And is part service.
Nudge is able to provide benchmarks of data it has collected. There is a minimum data size, typically a quarter worth of work, to establish meaningful data. Outliers are removed, and/or an alternative set of benchmarks is included, if data outliers reflect the actual business reality.
Analytics benchmarks are particularly powerful for enterprises managing complexity. And aid in demonstrating to stakeholders the return on investment.
What metrics are benchmarked?
The benchmarks typically span, reach, engagement, attention and scroll. Typically each URL is going to index well on one of these metrics. So the spread helps provide context.
Generally speaking, we expect ranges for these, attention around 48 seconds, scroll 50-59%, engagement can very from 1-2% up to 15-20%.
However other metrics can also be benchmarked, and/or overlaid with internal data. For example, creating a cost per second of attention.
If attribution is enabled, this can also be added for more color and depth.
Read more:
How can benchmarks be used?
The existence of them, brings immediate visibility to the average performance of the efforts. And creates a hurdle for new pieces to jump over. Naturally the team needs to be aware of the benchmarks.
Benchmarks are be used for:
Identifying areas of low performance
As a KPI or set of guidelines for partnerships
Rewarding the team
Forecasting future performance
As a team goal to improve up, i.e. we want to beat our benchmark by 10%
To show progress
This is relevant across campaigns, individual pieces of content, or any digital experience. Return on investment can also be articulated, as return against the benchmark.
Layering benchmarks into various strategies is a pro move. For example, when we partner with publishers, we typically get this level of performance, whereas when we partner with influencers we get this level of performance.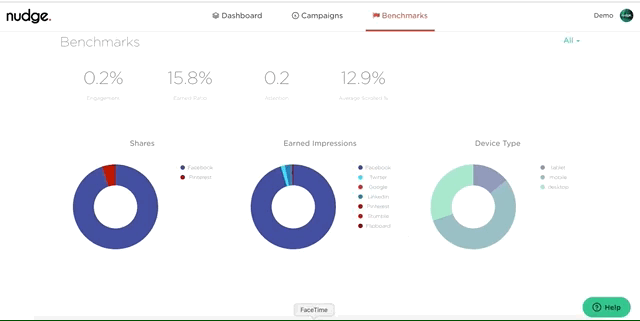 Value of Benchmarks for Agencies
Benchmarks can be particularly valuable for agencies, who work with a lot of partners. Rather than working to each of their individual benchmarks. Formulating your own internal benchmark, holds partners accountable to the market. Not just their last campaign.
Further it builds some competitive intelligence for your own agency offering. Laying in strategy, the actual work and the data intelligence, helps reassure clients of the value they'll get.
Benchmarks also help identify outliers earlier and put agencies in the drivers seat to negotiate make goods, discounts, or re-allocating budget a lot more rapidly.
Managing trade offs
Every piece of work has its own trade offs. Benchmarks can help bring data into understanding those trade offs. For example, if we take this direction, we believe it will impact our work in this way. This helps bring a constructive approach to driving performance. And provides creative guardrails or limitations for creatives to try and work within.
---