This guide provides an introduction to B2B content marketing. Businesses in the B2B space use content marketing as a go-to strategy to deliver on marketing objectives. It allows them to engage customers and prospects close to the purchase decision, making it easier for them to make informed decisions.
Table of contents
1. Know your ideal customer profile
For an effective content marketing program in B2B, the customer must be kept front and center. Who are they, where are they, what are the questions or problems they face? Drilling in and keeping this ideal customer profile (ICP) front and center is vital for success.
For example, a B2B company after profiling their customer, realized that most of them were seeking solutions to manage their remote teams effectively. So, they focused on creating content around that theme and related topics that resonated with their target audience.
2. Build awareness
The most common marketing objective for B2B companies is to build awareness. To earn the attention of the prospective customer and educate them as to the benefits of their solution.
Once attention has been established, content can help with other parts of the funnel to build consideration and move them closer to purchase.
3. Content Marketing Metrics
The most common metrics marketers are adopting for content marketing are:
People

, how many real people are consuming your content.

Attention

, seeing how much attention people pay to your content.

Bounce

, whether people are engaging with your content or not.

Avg Scroll

, the average scroll on each piece of content.

Social engagement

, seeing how many shares your content creates.

Conversion rate

, the rate at which people take action after consuming your content.

Time of day

, seeing what time of day is best for your audience to engage.
Example of a content marketing analytics dashboard.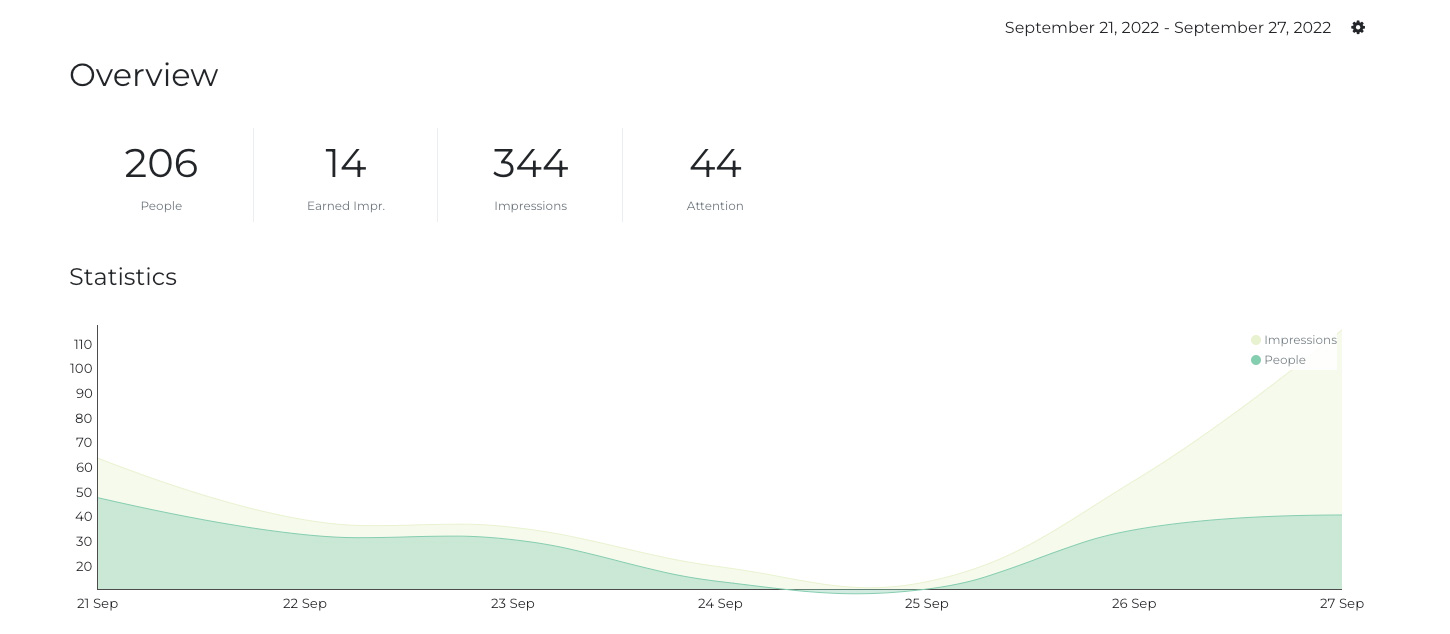 4. Different types of content marketing
Blogs, whitepapers, case studies, social media, video, podcasts, and newsletters are different types of content marketing. An effective strategy might include any one or a combination of these types.
Most often when people refer to B2B content marketing, they are referring to thought leadership, industry insights, and educational content.
This does extend to:
Social media, posting on LinkedIn, Twitter, YouTube, and others.
Video.
Podcasts.
Newsletters.
An effective strategy might include any one or a combination of the above types.
Thought leadership and educational content are common places to start because they are easy to create, improve and help customers stay informed.
5. Effective content format for B2B
In B2B content marketing, it is important to provide value to the customer while keeping them engaged. Thought leadership articles are a common place to start because they are easy to create, improve, and navigate.
However, there are other effective content formats for B2B such as case studies, webinars, explainer videos, and how-to guides.
In particular, video content is highly effective in B2B as it can showcase products or services in action, provide a personal touch, and keep customers engaged.
6. Content Distribution for B2B
B2B businesses need to reach their target audience to effectively market their products or services. Therefore, content distribution is critical for reaching potential customers.
The typical types of content distribution for B2B are:
Social media marketing

: actively building an audience through various social media platforms and reaching out to potential customers.

Email marketing

: using email to nurture leads and build customer relationships.

Influencer marketing

: partnering with influencers or industry leaders to promote products or services to their audience.

Paid advertising

: utilizing paid advertising to drive traffic to B2B websites or to specific product pages.

SEO

: optimizing content to ensure that it ranks high in search engine results pages (SERPs) and customers can find it easily.
When it comes to optimizing distribution, analytics can help measure engagement and identify the most effective distribution channels for B2B businesses.
7. Iterative Approach for B2B Content Marketing
Content marketing for B2B is an iterative process. As customers' needs and interests evolve, it is important for B2B businesses to remain flexible and adjust their content strategy accordingly.
Regularly analyzing data and gathering feedback can help businesses refine their approach and create content that resonates with their target audience.
8. Managing expectations for B2B Content Marketing
Creating quality content for B2B takes time and effort. It's important to set realistic expectations and to be patient in seeing results. Some content types may perform better than others, and some distribution channels may work better than others. It's important to monitor performance and make adjustments as needed to optimize content marketing efforts for B2B.
9. Avoid mistakes
Common mistakes made by B2B businesses with content marketing include not understanding their target audience, not having a clear strategy, and not optimizing their content for search engines.
10. Integrate strategy
Content marketing is just one component of a larger B2B marketing strategy. It's important to have a holistic approach that includes SEO, email marketing, social media, influencer marketing, and other tactics to achieve your goals.
---