What is native advertising / sponsored content / influencer content / paid content / custom content / branded content / native content?
You get the point; there are a lot of terms to describe, what can easily be put into a few baskets.
The first is branded content – this is any content created for a brand by a third party, to live on their site.
The key variables here are 1) a third party hosting the content. 2) disclosure. Because this content has been made to fit the form and aesthetic of the third party, it also makes it endemic to, or native content to that platform.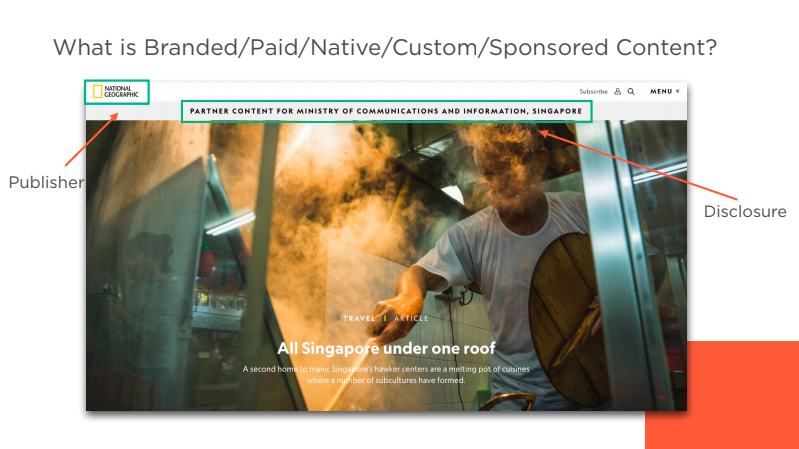 See, how the content is delivered, is an extra term.
The second is native advertising, this is any advert, that is replacing a banner ad, in that it is designed to fit in with the form and function of the site. Facebook newsfeed ads are a great example.
Sometimes, people reference, native display or programmatic native. The first is where a 'display ad slot' has had a native ad insert into it. Smart folks have figured out how to do that – and get the ad to match the page it is on. Programmatic native is where the ads can be bought.
How about content marketing content?
All of the above could be types of content in a content marketing strategy. But typically this term refers to content which lives on the brands owned channels.
Sometimes branded content is also referred to here, usually when the brand has created a video.
Looking for more relevant info on Content Marketing? You're in luck!
Native advertising examples
Here are our top three examples, we continuously share the most recent in our weekly newsletter as well as update our 'the best native' post each week.
Shutterstock + Adweek: Shutterstock Recreated the Notorious Fyre Festival Promo, This Time Using Only Stock Video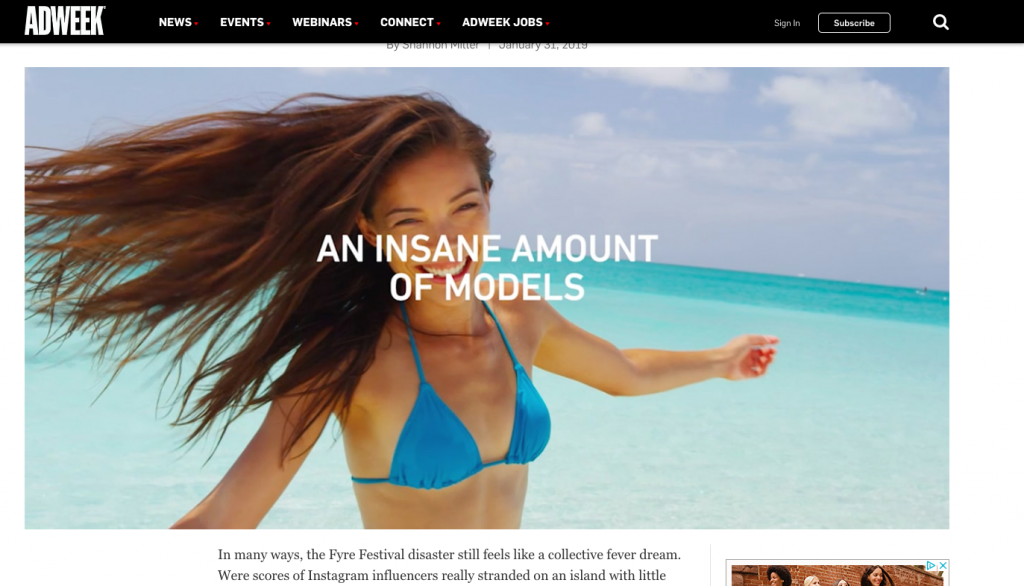 Featured in: This Week in Native Ads 2/8
Netflix + The Atlantic: Coerced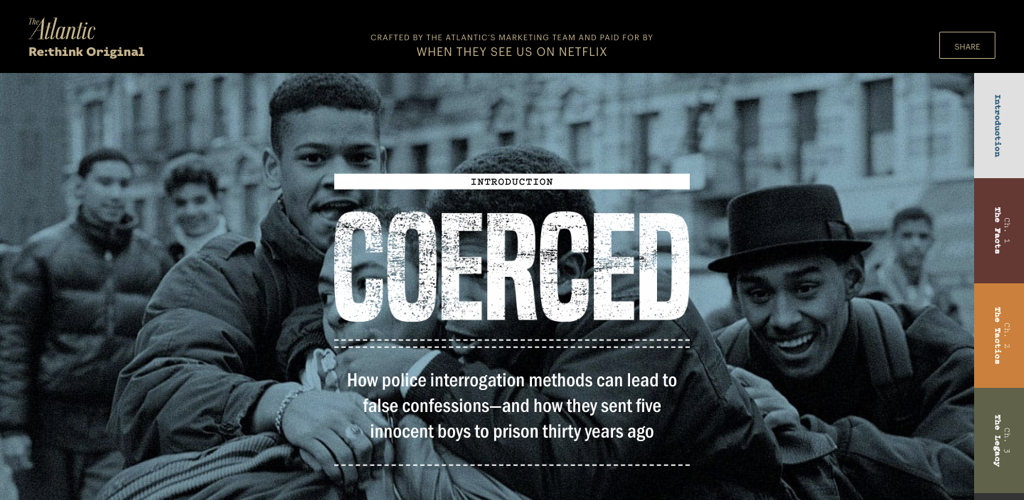 Featured in: This Week in Native Ads 6/7
Fifa + The Guardian: In a league of their own: the team who paved the way for women's football 100 years ago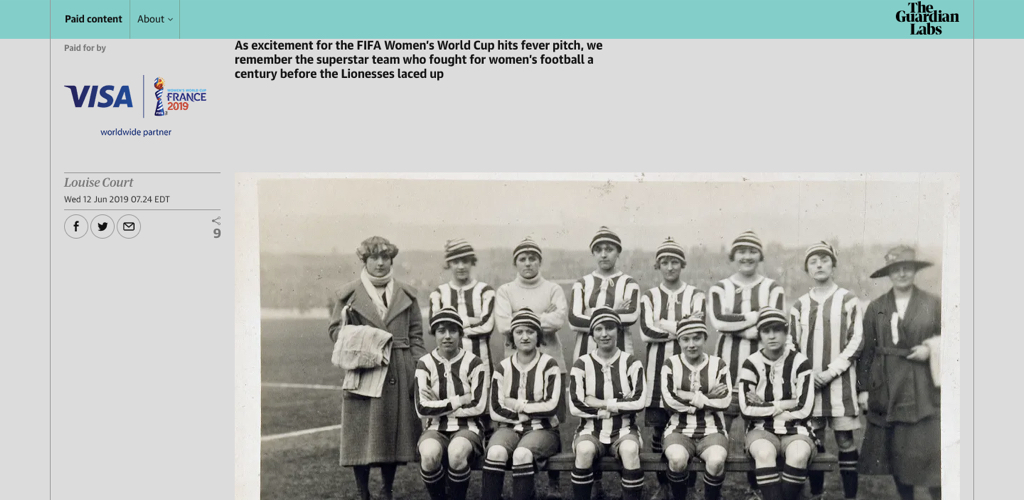 Featured in: This Week in Native Ads 6/14
B2B Native Advertising Examples
We've pulled out a couple of the more recent examples below.
Deloitte + Adweek: Consumers Want Automakers to Do Better – Here's How to Meet Their Expectations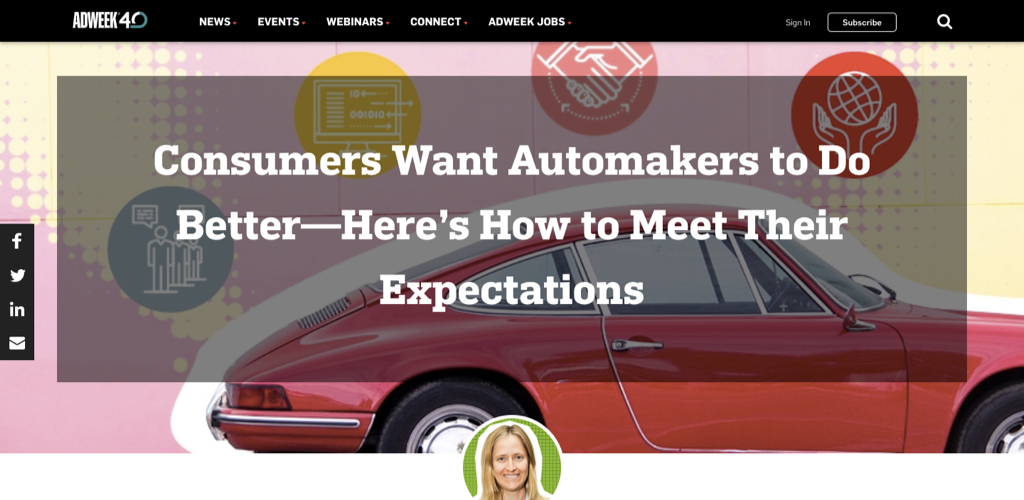 Featured in: This Week in Native Ads 8/9
Neustar + AdAge: When Scandinavian Airlines adopted analytics, it got more than tools and technology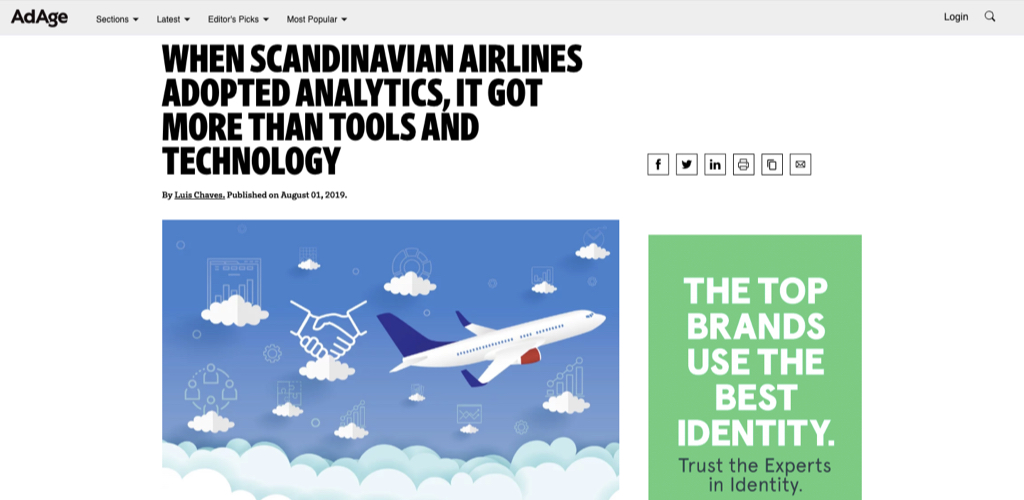 Featured in: This Week in Native Ads 8/2
Accenture + WSJ: From Me to We: The Rise of the Purpose-Led Brand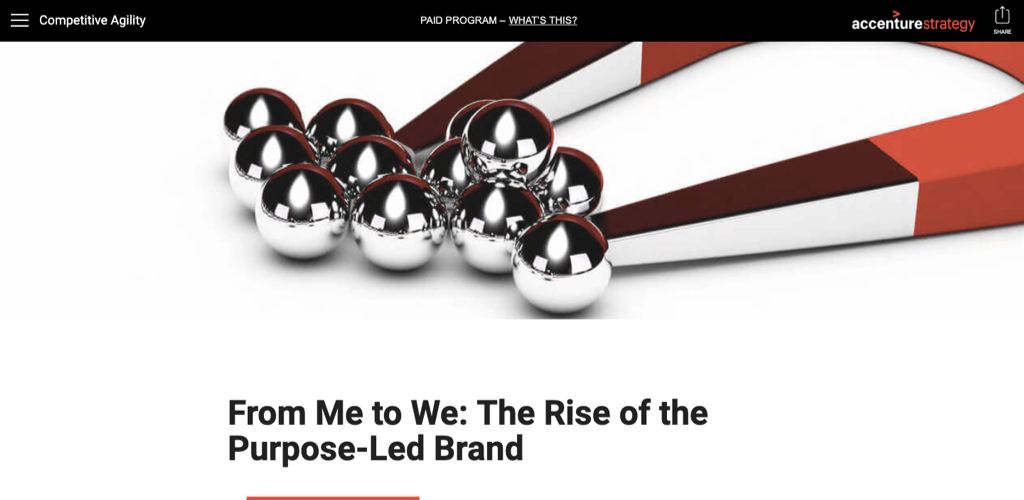 Featured in: This Week in Native Ads 4/12
What are the best practices when it comes to branded content?
1) The brand should be integral to the content.
If you took the brand away, the content wouldn't make sense. This is a strong pillar to achieve.
2) Trust your partners.
Your partners who are often creating the content, are the people who create content day in day out for the audience. Trust them and give them creative room, to deliver on your objectives.
3) Set tight objectives upfront.
We've seen people set KPIs after the content has created. Be clear about your objectives and how you'll measure success upfront. As this does inform the content creation process.
4) Include multiple calls to action.
Calls to action, help gently nudge the end-user who the content was created for. This helps drive brand recall but also any downstream conversion events.
5) Fast loading.
Brands can sometimes go overboard in their content creation. Make sure the content can load fast – and is snappy. There typically are thousands or tens of thousands of different computer setups looking at your content. The faster loading it is, the better experience they will have.
6) Use independent consistent measurement.
If you use a platform like Nudge, to get consistent measurement across all of your content. You are holding your content accountable to the market. Not just the prior execution you did or the partner did.
7) Check industry benchmarks.
Depending on your industry, different content, at different times of the day resonates the best. Check the latest benchmarks for your industry.
8) Plan to iterate.
Build into your plan, the ability to iterate, so you can adjust as you go and improve your results.
9) Plan to reuse year to year.
If a piece of content is really really good, you might want to dust it off and spend part of next year's budget to improve it.
10) Mix up the content types.
Lists, quizzes, image galleries, videos. They all have a place in time. Be sure to mix it up in your plan, so you can understand what resonates the best for you.
11) Distribute, distribute, distribute.
If you've invested in content, make sure you get all the eyeballs on it. You want to aim for five to one. Five dollars on promoting your content for every dollar you spent creating it.
Does native work?
Here are some of the data points supporting the growth of native and content.
Consumers are significantly more likely to understand why they're shown native ads compared to ads on Facebook (57% vs 52%). – MarTech Advisor (August 7, 2019)
This understanding extends to trust with 22% of consumers trusting native ads versus 17% trusting Facebook ads.
28% of consumers have clicked on native content in the past six months. Native Discoveries are considered educational, interesting, and relevant.
[Via Sharethrough Study] Consumers are 25% more likely to look at a native ad than a banner ad.- What's Next in Publishing (August 6, 2019)
They look at them 53% more frequently and check them out 4.1 times per session on average, versus 2.7 for standard banners.
[From the Branded Content Project study] "With one-third of respondents reporting margins over 50% and one-quarter seeing client retention rates over 80%, this data informs us that when sold to businesses that need to educate or inform local audiences, branded content can be a successful way to increase and diversify revenues". – Adweek (June 11, 2019)
People who read for 15 or more seconds are 25% more likely to recall a brand than those who read for 10 or fewer seconds. – Folio Mag (May 7, 2019)
For more supporting stats, we keep an always updated post here, with the latest and greatest research, insights and data points on all things native.