At Nudge, we create research reports into Native content within all categories to find out which content styles and publishers are performing the best. This is a chance to see what others are doing within your category and take learnings for your next campaign.
Nudge is a measurement and intelligence platform that allows you to go beyond the click and transform your content campaigns.
This review covers the below for Technology:
Benchmarks
Content format
Publisher performance
Social Insights
Best practice
Learnings
Key takeaways – Further reading
For this report, we've split out the research into content formats and publishers to find trends and learnings.The below graph shows where content styles sit looking at engagement and estimated attention minutes (based on Nudge's dataset from our full product).
Content Formats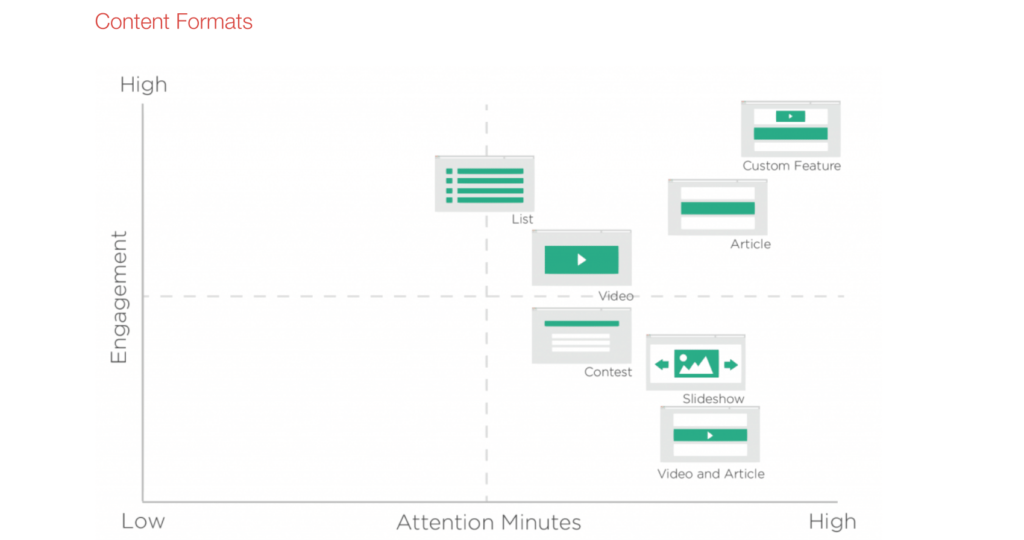 Definitions & Examples
Custom-Feature: Something a little different from the layout of the rest of the site. Normally includes parallax, video and an interactive element.
List: A content format which follows a numbered list. Can include images and text.
Video & Article: A video featured on a publishers site including an article write up.
Article: The most common form of native content. Normally follows the article layout of the sites editorial content.
Slideshow: A slideshow of images including opening copy and copy with most slides.
Video: A video featured on a publishers site. Normally includes a paragraph of text from the publisher.
Contest: Promoted content that encouraged the audience to engage and participate for a chance to win.
Custom Features continue to be a top performer for engagement, proving that an interesting layout and different elements can enhance engagement. Articles and Lists were two other high performers, lists containing more comprehensive content performed well in this category. However, we will note that 68% of engagement for articles came from StumbleUpon shares. Well researched articles, videos, and in-depth lists were a win for the tech-savvy audience. However, it's also worth noting that sponsored content in this category performed below other category reviews for engagement.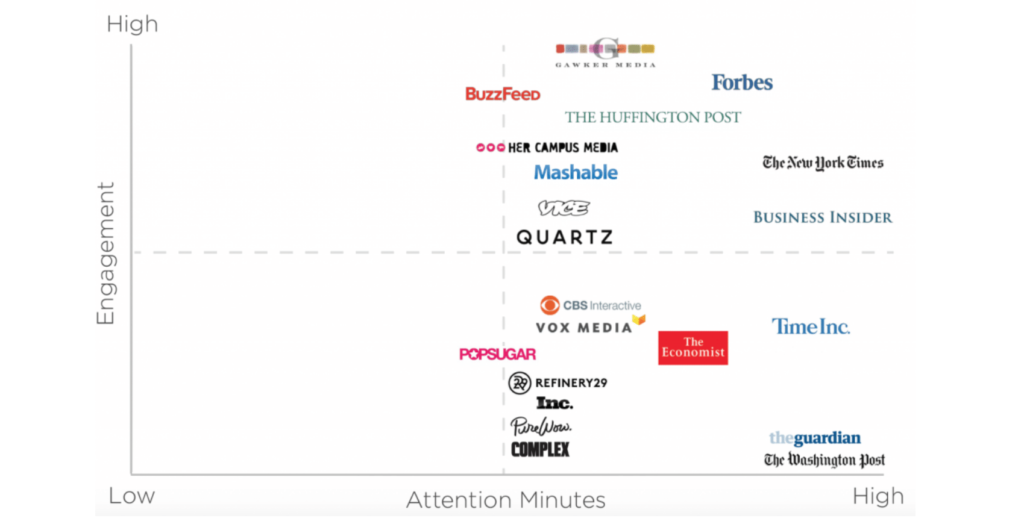 Top publishers within this category are Gawker Media, Forbes, Buzzfeed, and The Huffington Post. They are followed by Her Campus Media, Mashable, The New York Times, and Vice Media. For the first time, we've seen a fair amount of equal performers in the top space (performing well for engagement and attention).
Publishers that didn't perform as well are The Guardian and Washington Post.
Social Insights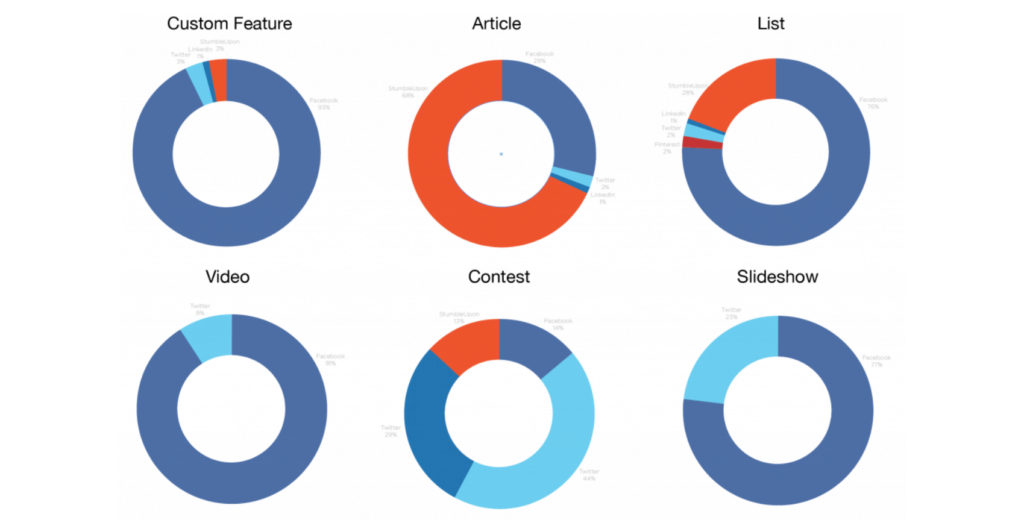 Contests saw the highest Linkedin and Twitter shares.
All other formats within this category found most of their engagement on Facebook.
Pinterest doesn't appear within this category.
Best Practice
Publisher: Quartz
Brand: Qualcomm
Content Format: Article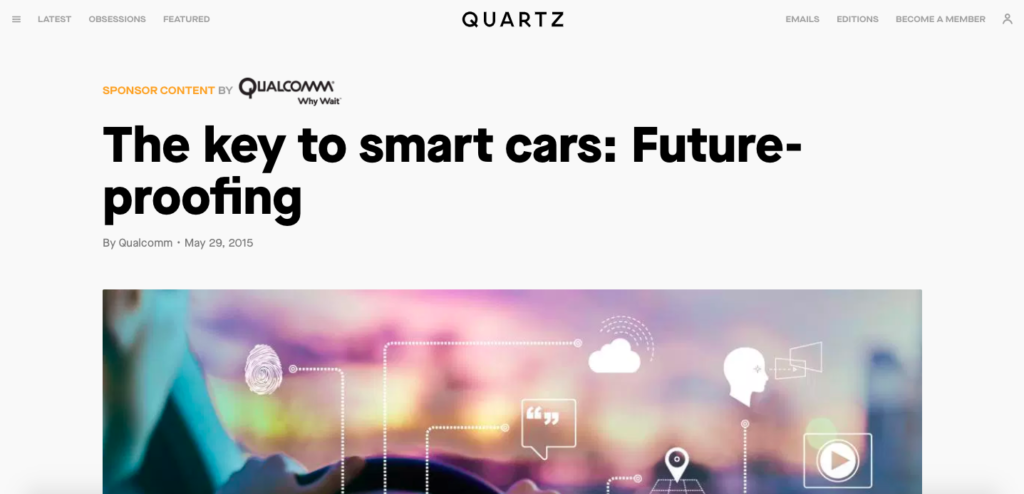 A well-written article about the future of smartphone applications in cars, provided by innovation-driven tech company Qualcomm.
The article touches a subject that is both relevant and interesting to the reader: the ability to upgrade software in cars the same way you do with today's smartphones. The brand has strong coverage throughout the article and they present their brand and features, whilst at the same time addressing a subject that is up to date and appropriate: Sustainability and Innovations in the auto space.
The article is a good length and presented with strong visuals that enhance the chance of people interacting with the content. This article got over 44K shares and was by far the best performing article within this category. It also didn't rely on StumbleUpon shares to drive its high engagement.
Publisher: Forbes
Brand: Dell & Intel
Content Format: Custom Feature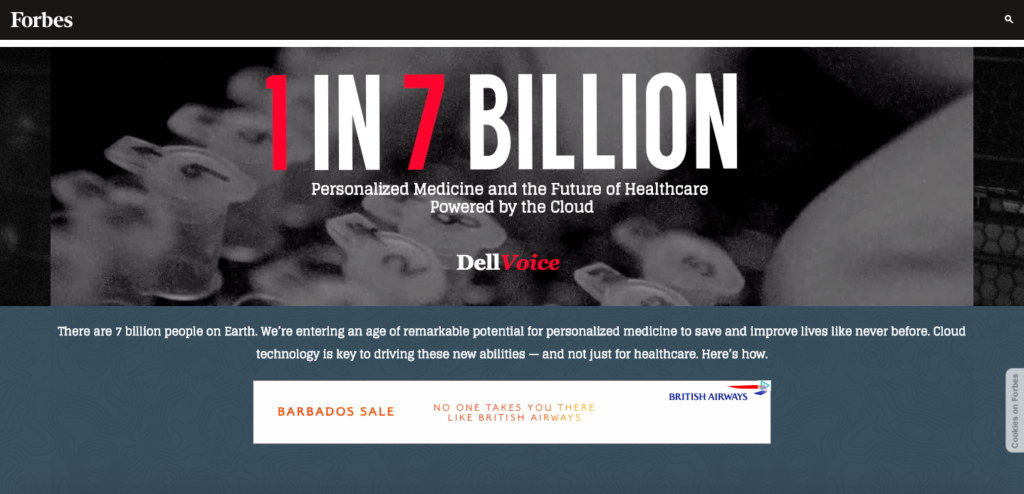 A successful custom feature sponsored by Dell and Intel that shows how collaboration between scientists and doctors became possible by using their cloud software to share and compile data.
The content was both engaging and eye-catching and built with an interesting design combining text, video, visuals, and infographics.
Publisher: Huffington Post
Brand: Kindle
Content Format: List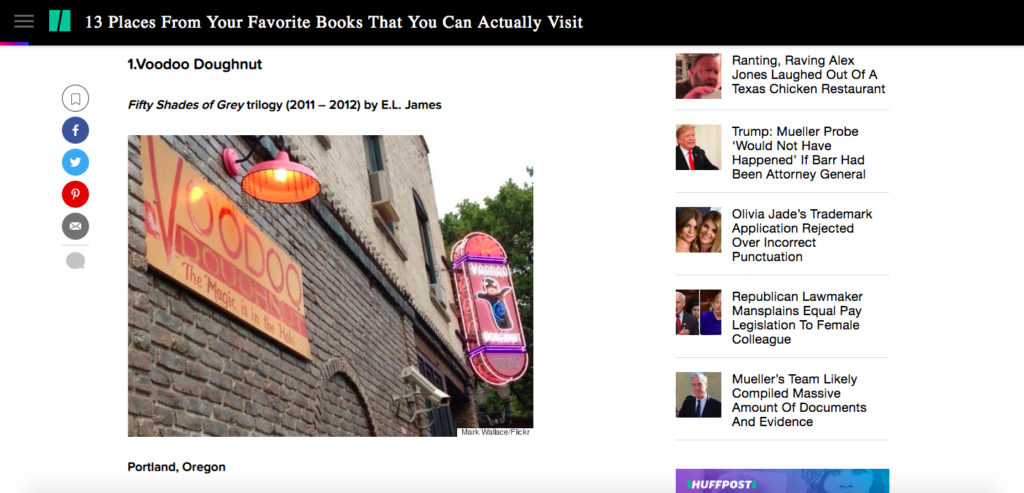 With over 54K shares this content by Kindle on Huffington Post was the top list-performer within the category. This list picked up on the insight that readers are able to travel to places they've never been. The content introduced the book-travel-enthusiasts to a way to go one step further and actually visit the places they've read about. A fun piece of content to share with friends who share the same enthusiasm. The list consists of 13 different books and locations, this is a good list number that keeps attention on the post.
It's a great piece of content that talks in the right manner to its targeted audience and achieved high engagement.
Discussion
Great content comes from great insights. This can be seen most effectively with the Huffington Post list. Tying the content to insight for avid readers helped to get this piece over 54K shares.
If engagement is a success metric for you in this category and you're looking to produce a sponsored article with a publisher, ask them to share where they get their most engagement from. You want to make sure that the majority of these are happening across social platforms.
Great native content relies on choosing the right publisher and audience for your brand and executing in the right format. The 3 best practice posts we've discussed are great examples of this. The brand has picked the right publisher and together they've created the right piece of content for their audience.
Overall the engagement within this category was lower than all other categories. Showing that there's still a lot of room to improve results within the tech category
Key Takeaways
Custom Features and Lists are the most engaging formats in this category.
Combined Videos & Articles are the least engaging format within this category.
Rich and information detailed content performed well for this category.
Gawker Media, Forbes, Buzzfeed, and Huffington Post are the top publishers for this category.
More Native Reading
Why you need quality metrics – the ROI of native content
Native content – sponsored content hubs
Engagement and attention – you need both
A closer look at attention metrics
If you'd like assistance in planning your buy, schedule a call with Hollie to see how Nudge can help: contact@giveitanudge.com
---