Nudge looks into native content regularly to find out which content and publishers perform the best in each industry. It's a chance to see what others are doing and take learnings for the next campaign.
Key Metrics
The most important KPIs to look at are Attention, Earned Impressions Ratio and Engagement.
Attention is the time that a person is actively consuming the content. Nudge recommends it as an objective way to compare the return on investment of different kinds of mediums in the luxury sector.
Earned Impressions Ratio is the percentage of impressions that arise from a share over the total number of times people have viewed the content. It measures the traffic quality and the effectiveness of social media share posts.
Engagement measures the ratio of social actions: sharing or liking a piece of content vs. people. It is a baseline metric for reviewing how campaigns performed against other campaigns and the Nudge benchmarks.

Distribution Insights
Desktop traffic has performed well for most luxury content. For clothes and cosmetic products, mobile distribution tends to perform better since the content usually is straightforward and easy to understand, and therefore mobile is the most convenient device to target.
If a publisher is including social distribution, make sure these aren't dark posts but come from the publishers account with additional distribution budget behind.
Newsletters from the publisher are a great add on, driving 2x higher attention than other sources.
Publisher Insights
A key trend is that brands aim to be more approachable and accessible by nontraditional audiences. Many luxury brands are engaging consumers across the affluence spectrum.
GQ is an international monthly men's magazine that focuses on fashion, style, and culture. Articles on food, movies, fitness, music, travel, sports, technology, and books are also featured.
Thrillist is a leading online lifestyle media publication about how to best spend time and money across the lifestyle categories people care about most. It covers food, travel, and entertainment.
Content Insights
The content formats are relatively diverse, including slideshows, lists, and videos. We observed that luxury content contains more photos and videos, and the color tone is more cheerful and vibrant.
Custom Features perform well in this category, they're something a little different from the normal a layout of a publishers site, it can include parallax, interactive content, video, and sound.
Videos do not perform that well for this category getting mid-level engagement and attention.
Content hubs also perform poorly, they achieve lower engagement, lower earned impressions and lower attention than sponsored articles placed within a publishers newsfeed. Nudge research shows that article is the best content format for the luxury industry.
Best Practices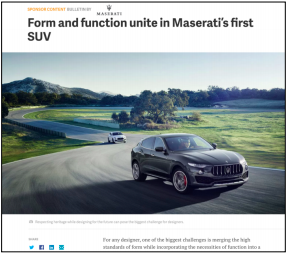 Maserati introduced the design, functions, and stories for its first SUV on the Quartz.
The content successfully attracts people's attention by associating with other luxury brands and creating an overall lifestyle concept.
The article matches the target audience profile for Quartz – innovative business people in the new economy.
The layout is concise and simple, and the social media buttons are clear by the side.
https://qz.com/753214/form-and-function-unite-in-maseratis-first-suv/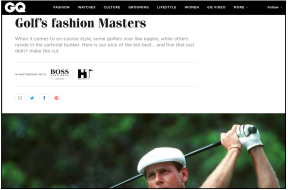 Following the golf tournament, BOSS recently launched a content campaign on GQ.
The article is relevant to GQ's editorial topics, and Boss brand is embedded to the content smoothly.
There is a strong brand presence throughout the content: Logos are clearly displayed in photos.
http://www.gq-magazine.co.uk/article/golfs-fashion-masters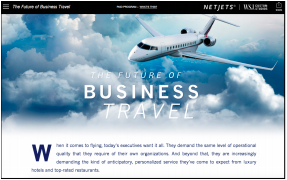 NetJets shared some creative innovations on the future of business travel on The Wall Street Journal.
The interactive content creates a holistic picture on tomorrow's business trips in terms of schedule, aircraft design and service. The creative layout raises people's attention.
http://partners.wsj.com/netjets/future-of-business-travel/
---