At Nudge, we look into Native content within different categories to find out which content styles and publishers perform the best. It's a chance to see what others are doing within your category and take learnings for your next campaign.
This review covers the below for Fashion:
Content format
Publisher performance
Best practice
Learnings
Key takeaways
Further reading
For this report, we've split out the research into content styles and major publishers to look at not just the format of content but some of the leading publishers within this category to find trends and learnings.
The below graph shows where content styles sit looking at engagement and estimated attention minutes (based on Nudge's dataset from the full product).
Content Formats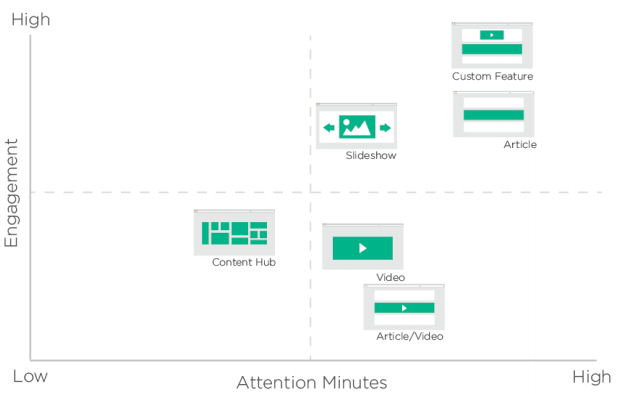 As we can see here Custom Features are the top engager for the Fashion category. Custom Features are something a little different from the normal layout of a publishers site, it can include parallax, interactive content, video, and sound. This wasn't just the top performer for engagement but also performed well for estimated attention minutes.
Sponsored article's continue to be a top performer for both engagement and attention. These succeed due to the format being the most similar to what most publishers use to promote their own content. Native content works best when it's a seamless discovery between paid and non paid content in the format, place and tone that they, the reader understands.
For the first time in us running these research reports, we've seen a slideshow move into the high engagement and attention category. This is due to fashion, outfits, working well for a slideshow format and something a lot of fashion sites and blogs already do with their own content.
Video's and articles with video's performed poorly with both low engagement and low attention minutes. Content hubs have also performed poorly, they achieve lower engagement, lower earned impressions and lower attention minutes then sponsored article formats placed within a publishers newsfeed. Content hubs don't work as they go against the native part of 'native content'. Native Content at its heart is about fitting within a publishers style of content for a seamless user experience that allows brands to engage with the publisher's audience. Paying for that experience and then having the content placed on a 'microsite' that you have to pay money to then drive people to is a little superfluous. You can read more about this here.
Publishers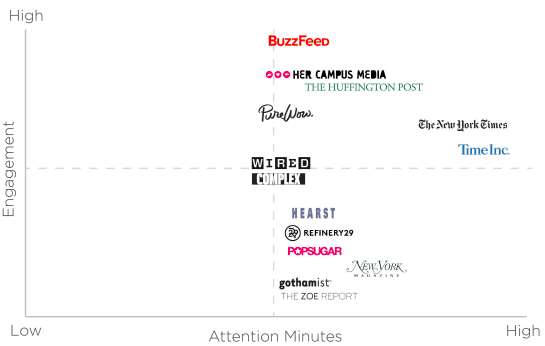 A review of the publishers in this category shows some clear winners; BuzzFeed, Her Campus Media, Huffington Post, Purewow and NY Times. These perform well for both engagement and attention. Though Wired and Complex Media didn't perform as well as the previously mentioned publishers, they still received good engagement and attention. Refinery29 and Pop Sugar rated lower in engagement than expected.
Best Practice
Publisher: Complex Media
Brand: Under Armour
Content Format: Custom Feature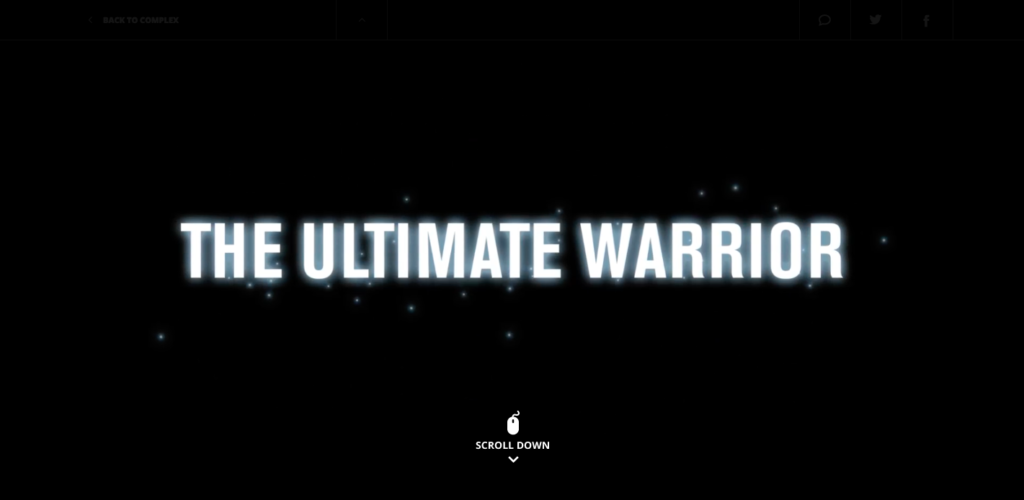 This custom feature for Under Armour on Complex had over 17K shares. The content theme is Stephen Curry's signature Under Armour shoes. It includes an article, imagery, video, and GIFs. It looks into the creation of the shoe, from brand strategy, materials, colorways, and a peek into the design of their next shoe. Complex is a great publisher for a sport focused fashion brand. The article was well written, included info about a basketball player and connected to the product in an insightful way. One of the most important questions to ask before planning your native content campaigns: is the audience of the publisher the right fit for your brand? If it is, that's the best starting point, but don't then forget that the audience responds to the publisher's editorial standpoint. You should give them the freedom to create content that will work for their audience. That's when you'll get this high level of engagement and success for both parties.
Publisher: NY Times
Brand: Cartier
Content Format: Custom Feature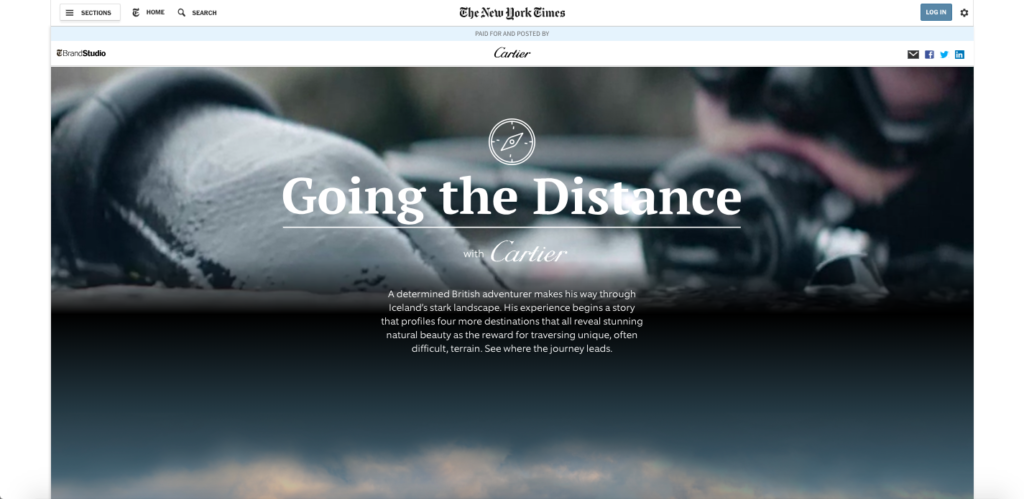 This Cartier custom feature which launched in July 2015 by the T Brand Studio had strong engagement with over 20,000 shares on Facebook and almost 500 on LinkedIn. It included an article and video about adventurer Alistair Humphreys journey through Iceland. Highlighting amazing destinations such as Chile, Australia, Norway and the Middle East whilst promoting the Calibre De Cartier Diver Carbon Watch. This was a great mix of the NY Times discerning audience and the premium Cartier product, it was well researched and captured the spirit of adventure that Cartier choose to represent.
Publisher: Elle Magazine (Hearst Media)
Brand: Armani Exchange
Content Format: Slideshow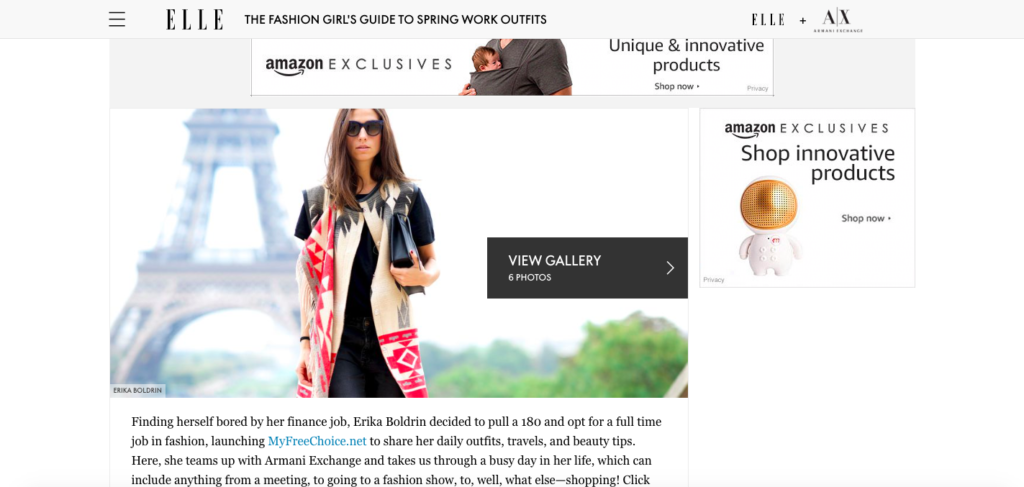 This piece of content on Elle Magazine included a look at Erika Boldrin' daily outfits with Armani Exchange. It's a simple slideshow with just 6 looks but had a clear intro (included the number of looks, which is very important), good photography and included outfit names and prices for a quick fun look at their spring line.
Discussion
It's important to understand the audience of both your brand and the publisher when planning your native content campaigns. If the audience isn't the right for your brand, it's the wrong publisher. The best pieces of native content are always a strong mix between the publishers' audience, your brand and their editorial tone of voice.
Based on that last point it's important to give the publisher the freedom to create the content that will appeal to their audience. They understand their audience and when given the right brief and creative freedom, will be able to create something on brand for their readers that receive high engagement and attention.
Key Takeaways
Custom features, articles and slideshows are the best content formats for high engagement and attention.
BuzzFeed, HerCampus Media and Huffington Post are the top publishers in the category for engagement.
Lists continue to perform well in this category be whether it's a slideshow or article format.
Carefully choose the right publisher for your audience to achieve both high engagement and attention.
Give the publisher the freedom to create content for their audience, with your brand in mind.
More Native Reading

Why you need quality metrics – the ROI of native content
Native content – sponsored content hubs
Engagement and attention – you need both
How to sell native content

If you'd like assistance in planning your buy, schedule a call with us to see how Nudge can help: contact@giveitanudge.com.
---