Nudge looks into Native content regularly to find out which content and publishers perform the best in each industry. It's a chance to see what others are doing and take learnings for the next campaign.
Key Metrics
The most important KPIs to look at are Attention, Earned Impressions Ratio and Conversions.
Attention is the time that a person is actively consuming the content. People have spent an average of 0.89 attention minutes on entertainment native content.
Earned Impressions Ratio is the percentage of impressions that arise from a share over the total number of times people have viewed the content. It is an important indicator of the value of a social share. On average, campaigns within the Entertainment category has accounted for 10.8% Earned Impressions.
Conversion Ratio is the number of people that converted through to the brand site after reading the content. We measure conversions via IP to understand how your content helped drive conversions for the brand over 60-90 days. Entertainment brands are looking at a 2-3% Conversion Ratio.
Distribution Insights
When publishers are going to use their own internal native distribution, make sure they use tags of that you can monitor the performance. Not all native units perform equally.
If a publisher is including social distribution make sure these aren't dark posts but come from the publishers account with additional distribution budget behind.
Desktop accounted for 64% of total traffic, mobile for 25% and tablet for 11%.
Publisher Insights
Buzzfeed is one of the most active publishers for entertainment campaigns. It covers a wide range of topics including trending news, food recipes, and videos of all discussions.
The Onion, a news satire organization that publishes articles on international, national, and local news. It is a good platform for informative and heavy content in humorous tones.
Below is a list of notable entertainment publishers within the native content space.

Content Insights
Most popular content themes include movie, music, and television. Children-related and family content are common in the sector.
The content formats are more diverse than other industries, including slideshows, lists, interactive content, and videos. Videos are widely used, especially for movies and TV shows.
TV shows run more native content than movies, and movie trailers are primary content for movies.
Loading time is an important factor to consider when setting up the campaign content.
Publishers need to be wary about auto play videos before a headline because the videos might increase loading time and drive people away from scrolling down for more content.
Social Insights
Facebook is the current primary platform for social engagement in entertainment campaigns. It accounted for 95% of total shares and 99% in total earned impressions as organic traffic.
Best Practices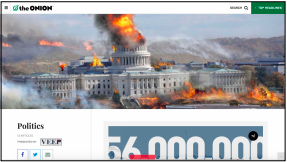 To promote Veep, HBO launched a series of videos about Politics on the Onion.
The video content introduces key figures in the American politics industry, which matches the target audience's interests in politics whilst keeping the content informative.
The layout is concise and simple, and social share buttons are easily observed next to the title.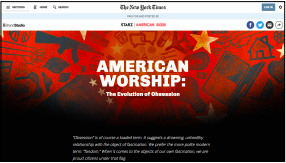 Starz recently launched an informative content campaign that includes an article about Obsession with introductions and a trailer of 'American Gods' on The New York Times in Q2 2017.
The content and format are consistent with the target audience of the New York Times, who are mostly educated professionals interested in opinions and in-depth discussions.
There is a strong brand presence on the page, with noticeable Starz and American Gods logos. The show is introduced at the beginning to gain more awareness. We recommend emphasizing branding beyond banners and logos, with an integrated approach and multiple calls to actions.
---