Nudge looks into Native content regularly to find out which content and publishers perform the best in each industry. It's a chance to see what others are doing and take learnings for the next campaign.
Key Metrics
The most important KPIs to look at are Attention, Earned Impressions Ratio and Engagement.
Attention is the time that a person is actively consuming the content. People have spent an average of 0.68 attention minutes on alcohol native content.
Social Engagement is the ratio of social actions: sharing, liking or commenting a piece of content to people. It evaluated the campaign performance in attracting people's interests to interact with the content. Alcohol campaigns have high engagement ratio in general, coming in at an average of 12.8%.
Earned Impressions Ratio is the percentage of impressions that arise from a share over the total number of times people have viewed the content. Alcohol brands have significantly higher earned impressions ratio than other categories, with an average of 36% Earned Impressions, indicating high value of social shares.
Distribution Insights
Mobile accounted for 55% of total traffic, desktop for 37%, and tablet for 8%.
When publishers are going to use their own internal native distribution, make sure they use tags of that you can monitor the performance. Not all native units perform equally.
If a publisher is including social distribution make sure these aren't dark posts but come from the publishers account with additional distribution budget behind.
Newsletters from the publisher are a great add on, driving 2x higher attention than other sources.
Publisher Insights
GQ is an international monthly men's magazine that focuses on fashion, style, and culture. Articles on food, movies, fitness, music, travel, sports, technology, and books are also featured.
Thrillist is a leading online lifestyle media about how to best spend time and money across the lifestyle categories people care about most. It covers food, drink, travel, and entertainment.
Content Insights
Most popular content themes include cocktail recipes, food pairings, and music.
The content formats are more diverse than other industries, including slideshows, lists, and videos. We observed that alcohol content contains more photos and videos in the post, and the color tone is more cheerful and vibrant.
Custom Features perform well in this category, they're something a little different from the normal layout of a publishers site, it can include parallax, interactive content, video, and sound.
Videos do not perform that well for this category getting mid-level engagement and attention.
Content hubs also perform poorly, they achieve lower engagement, lower earned impressions and
lower attention than sponsored articles placed within a publishers newsfeed.
Social Insights
Facebook is the current primary platform for social engagement. It accounted for 87% of total social shares and generated 98% of earned impressions as organic traffic.
Pinterest is the second highest platform for shares, which can be attributed to a large amount of photo format content in alcohol campaigns.
Best Practices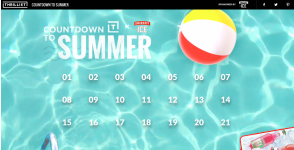 Smirnoff launched a 21 countdown to Summer on Thrillist to promote Smirnoff Ice.
The post rolled out a new tip each day leading up to June 21st (the official start to summer), it attracted people's attention to view it multiple times for daily updates.
Smirnoff DIY recipes were included as the only video formats on the post, showcasing its brand.
The layout is concise, simple and innovative.
https://www.thrillist.com/countdown-to-summer/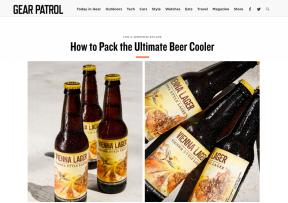 Devils Backbone Brewing recently launched a content campaign for Vienna Lager on Gear Patrol in Q2 2017.
The content discussed beer coolers and preparation for weekend escape, which was related to people, especially summer.
There is a strong brand presence on the page, with noticeable DB Vienna Lager logos, at multiple places and clean product images.
https://gearpatrol.com/2017/06/28/how-to-pack-the-perfect-beer-cooler/
---